Did you know that a simple one-star increase on Yelp could boost your revenue by 5% to 9%?
You hear all the time about online reviews and how they help to steer buyer decisions. Yet, many businesses (especially small ones) fail to use them to their advantage.
People today trust peer reviews because they're open and honest (something you don't get with branded content and ads). This means you need to have a strategy for generating more reviews for your local business.
The question now is:
How to ask for a Google review?
Before we answer that, let's take a look at why Google reviews are essential.
Why Google Reviews Matter to Small Businesses
Word of mouth marketing is what kept most local small businesses in operation since the dawn of commerce. Now that we're shifting to an online marketplace, we find consumers are using the web to research products and services.
Once they find several options, what's the next step?
To find which business to shop with. And to do this, they need the help of their peers.
This is true for the majority of today's consumers, who read online reviews before visiting businesses. We find that 90% of consumers say positive reviews influence their buying decision.
Another 86% claim that negative reviews deterred them from buying from a business.
This goes to show the dominance online reviews have on the reputation of local businesses. But you don't have to be a victim.
Here's how to ask for a Google review (and put the odds in your favor).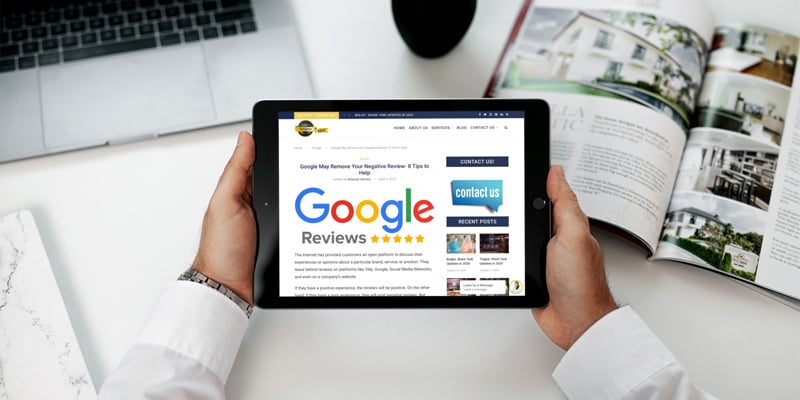 How to Ask for a Google Review (the Right Way)
Getting more (or better) reviews for your local business is easier when you develop a strategy around the process. Waiting around for customers to leave a rating isn't going to suffice.
You need to be proactive about acquiring reviews, so here's how to do so.
Get the Timing Right
The type of business you have will determine the best time to reach out to customers for a review. For example, if you own a local gym, then you may want to wait 30 days of regular visits.
This way, they can post their results (using photos, videos, or text).
On the other hand, if you sell a product that offers instant gratification, then asking for a review within a day (or even right away) is your best bet. This way, your product is still fresh in their mind.
In this case, you can ask for the review on your receipts and/or via email or text.
Make it Easy for Customers to Review Your Business (Provide the Link)
People are busy and easily distracted -- a bad combination when you're asking a customer to take time out of their life to review your company.
So the key is to make the process as simple as possible. If you send an email or text asking for a review, then include the link there.
Use Email Marketing to Capture More Reviews
Collecting emails from your customers is an excellent way to grow your business. Not only does it keep you in touch with your customer base, but it also positions you to send requests for Google reviews.
But how do you go about capturing emails?
If you have a website (which we hope you do), then you can use a content strategy. Create a blog that directs traffic to your site and at the end, offer a free download to a helpful guide in exchange for their email.
If you're a restaurant, you can offer free recipes. Or if you're a fitness trainer, then you can create a guide with a home workout routine to get X results.
Then whenever a prospect becomes a customer, you can email them asking for a Google review.
Add a Google Review Link to Your Website
If your site regularly attracts your customers, then this is a great idea. You can add a link to the header or footer of your site. This way, they can write a review without having to leave.
You'll need to use a Google review link generator, which you can learn about here.
Email Template for Google Review Requests
So what should you say in your email to customers? Here's a quick example:
Hi (First Name),
Thanks for buying (Product Name) with (Your Business Name). We truly appreciate your business!
As a valued customer, we'd like to ensure you're satisfied with your purchase. We'd love to hear from you about your experience with (Product Name). So if you could take several minutes to leave us a review on Google (Link Here), we'd greatly appreciate it!
To write your review, just click on the link below and let us know your feedback!
(Link to Google Review with CTA)
Thanks in advance for your review and don't hesitate to let us know if you have any questions or need assistance with your (Product Name). You can contact us directly here (Include Link).
Sincerely,
(Sales rep's name)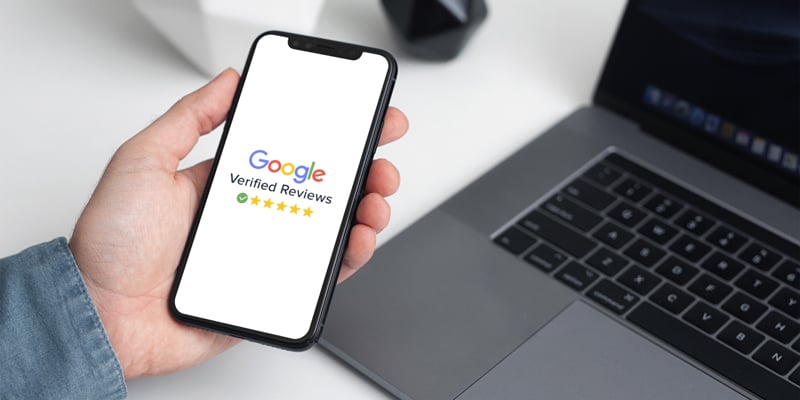 Start Asking for Google Reviews
You're a business owner who's strapped for time. Yet, you know how important it is to ask for Google reviews.
If you're worried you won't have the time to manage an email campaign or update your site with the proper code -- there's another way.
You can use GoSite's Review tool, which allows you to do everything in one place. In your dashboard, you can send text or emails to your customers, asking for a review.
This is automated, so all you need to do is click send.
The message will include a link to make the process seamless.
You can also use your dash to read and respond to online reviews, which is critical, especially when you get negative feedback.
Want to learn more about using this helpful tool? Then give GoSite Reviews a try for free today!