The holidays are practically here and if this month has been anything like the rest of 2020, it's probably flying right before your eyes. As a small business owner, we know you often don't have too much time to plan out robust marketing and promotions strategies in advance for the holidays.
Even without a solid marketing plan, there's hope for a successful holiday season. Despite a tough year, over 66% of Americans are planning to shop small this holiday season and nearly 88% of shoppers feel a personal commitment to support local businesses. However, we still want to help you make the most out of the holidays, so we put together this list of some last-minute, yet impactful marketing ideas.
Since we're all in this together, navigating a global pandemic, we also included ideas that could make a difference for your customers, your community, and your bottom line. Whether it's starting an anonymous gift exchange or simply sending your customers a personalized message, this list will help strengthen your brand reputation and build momentum for 2021.
1. Give a Pay It Forward Discount
Inspire your customers to participate in a random act of kindness by starting a pay it forward trend. This can be something as simple as encouraging customers to pay for the next person's gift wrapping or cup of coffee. It will help brighten someone's day and create an altruistic domino effect that can generate some organic buzz for your business.
2. Add an Emotional Tie In to Your Ads
The holidays can be tough for a lot of people. In fact, about 10 million Americans suffer from seasonal affective disorder—aka the winter blues—each year. With that in mind, try adding a little comic relief or a hopeful message in your holiday ad.
An analysis of over 1,400 case studies by the Institute of Practitioners in Advertising found that when ads rely on an emotional appeal, they perform nearly twice as well as ads with informational or rational persuasion. Coca-Cola is a prime example of creating ads that pull at your heart strings while HotelTonight's, "Visit, Don't Stay" campaign poked some fun at family time for their holiday campaign. So although you may not have a huge budget, use the knowledge you have on your customers and your community to come up with a funny, amusing, or endearing ad.
3. Throw a Virtual Holiday Party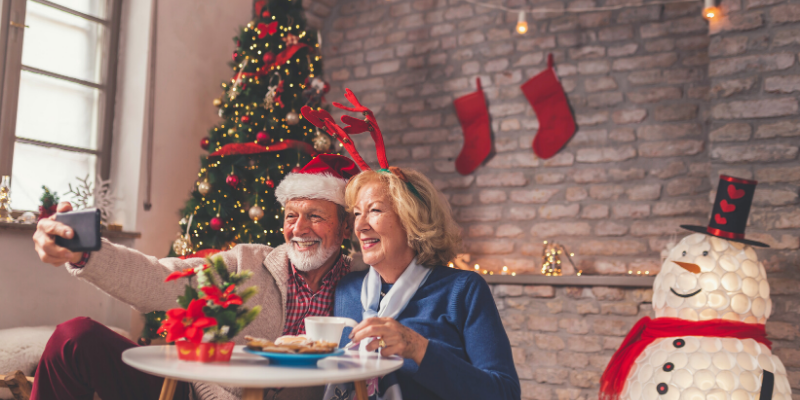 With COVID-19 restrictions in place in many parts of the country, small businesses are struggling to reach their customers this holiday season. However, if you've optimized your website, why not throw a virtual holiday party to boost bookings and start 2021 with a busy schedule?
Use your CRM tool to send an email or text message with a schedule of the different discounts and deals you'll be offering each hour. For example, if you're a nail salon owner, offer a free nail design for any future appointment booked between 8 a.m. to 10 a.m., a 10% discount for appointments booked between 10 a.m. to 12 p.m., etc.
4. Announce a New Product or Service
Engage your customers by offering something new. Even if you don't have a new product or service, you can easily create one by bundling two or three current services, making gift baskets with products you already sell, or even offering a gift with purchase.
If you accept gift cards or certificates, creating a couple of new holiday-themed designs can be enough to entice your customers to purchase their last-minute gifts with you.
5. Post a Holiday Contest or Giveaway
A contest or giveaway is a great way to grow your social media presence. Although they usually don't result in an instant boost in sales, giveaways can help get more eyes on your content, products, and brand as a whole—especially when your giveaway requires a follow or tag.
New eyes on your business can generate new leads and start you off on the right track for next year.
6. Partner With a Local Organization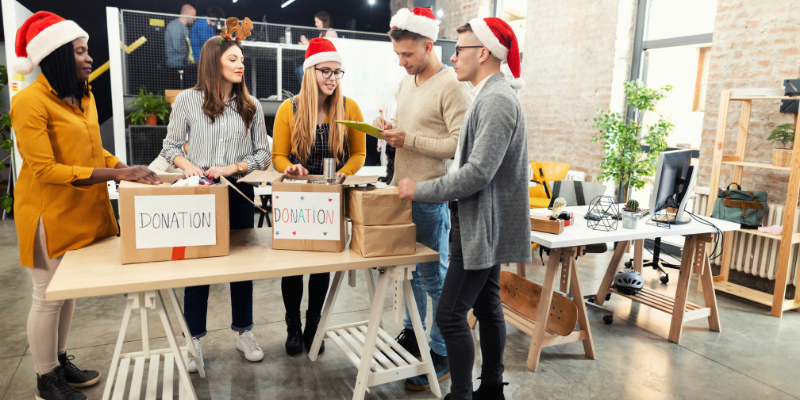 Look for an organization that works on a cause you're passionate about and check their website for ways you can help out. Even if it's too late to set up a formal partnership, you can still encourage your customers to chip in whenever they make a purchase or book a service.
Add a donation link on your website, offer discounts when your customers pitch in, or let them know that a percentage of sales will go towards this cause.
7. Offer Inclusive Holiday Sales
In the winter, Christmas and New Year's are the most commonly celebrated holidays in the country. However, with such a diverse population, use this time to make all of your customers feel included by offering discounts, sales, or even just giving them well wishes for Hanukkah, Three Kings Day, and Kwanzaa.
8. Offer a Holiday-Related Virtual Class
If you provide services, whether it's home maintenance, cleaning, beauty and wellness, or landscaping, there's always a useful skill you can teach your customers. Opt for holiday- or winter-related services that may be in demand.
Depending on your industry, you can offer a class on:
How to shovel snow safely.
How to care for plants in the winter.
How to cover hair roots in between appointments.
How to organize a home to bring in the new year.
How to stretch after spending all day sitting at home.
9. Start a Stranger Gift Exchange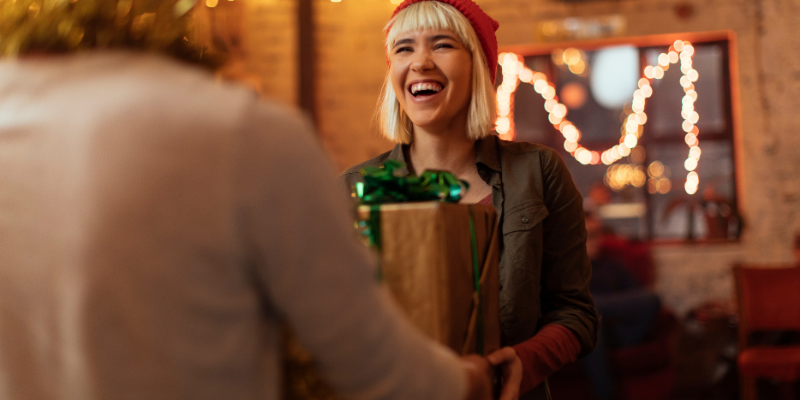 This idea may take a bit of planning and coordinating but if you have the ability to easily modify your website, it should be easy to implement. To start, create small gifts like $5 discounts, a small add-on service, or vouchers. Encourage your customers to participate in the exchange by purchasing one of these gifts for the next participating customer. If a customer chooses to gift one of these items to a stranger, they would also receive a gift paid for by a previous customer.
If it doesn't create too much added work for your team, further personalize the exchange by allowing your customers to type in a note for the stranger receiving the gift.
10. Send Customized Emails and Texts
Small business owners and their teams often have strong relationships with their customers—especially if you've been in business for a long time. But whether you're just starting your business or opened your doors 20 years ago, a personalized message is a great way to show appreciation and increase your brand loyalty.
In addition to writing each customer's name, your holiday message can include:
A detail about the customer.
A wish for a happy holiday season.
A custom offer based on the customer's order history.
An honest update on your business.
11. Create a Unique Hashtag
A simple and free idea you can't skip out on is to create a unique hashtag for your holiday campaigns or initiatives. Small business owners often wear many hats including being their own marketing specialists or content creators, so build a library of user-generated content by housing it all under a unique hashtag you can track.
Remind customers to tag you, check in to your business (even if it's virtually), and use a hashtag to show support on social media.
12. Offer Gift Wrapping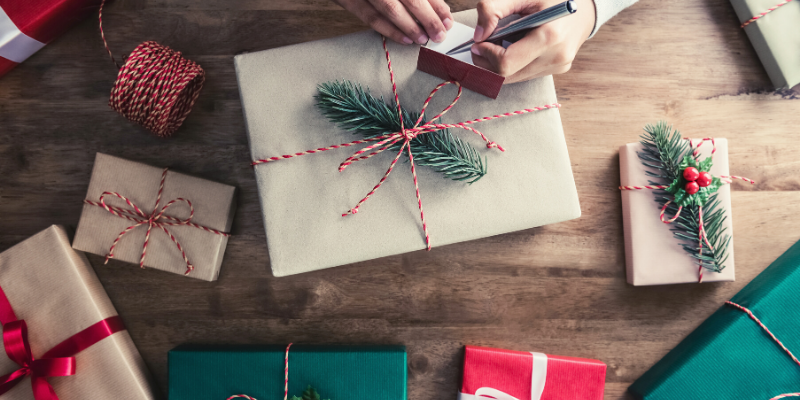 Last-minute, online gift shopping during the holidays usually means paying for expedited shipping. And if there's one thing customers hate about online shopping, it's shipping costs. According to a survey, paying for shipping is actually the least favorite aspect of online shopping of nearly 63% of people. In addition, customers often need to ship the gifts to their homes to wrap them before sending them to their loved ones which can double shipping costs.
To make it easy for your customers to choose your business for their last-minute gifts, offer complimentary gift wrapping, handwritten gift tags, wrapping kits, or gift bags.
13. Give Customers Personalized Gifts
Surprise and delight yourl customers by sending them something you know they'll love. If you have a platform that keeps track of past customer communications and order history in one place, you can easily determine the types of services they book the most.
If it's not feasible for you to offer a full free service, you can still send them a personalized discount to entice them to make their next booking.
14. Reward Loyal and New Customers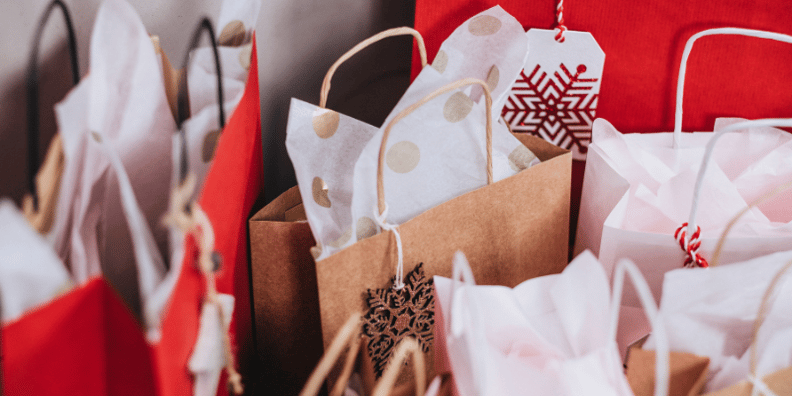 If you don't already have a loyalty program, now is a good time to start one. An easy way to go about this without having to integrate a new system or software is by looking at past purchase history.
Let your followers know on social media you'll be rewarding your most frequent customers with a special treat by the end of the year. Be sure to make the gifts enticing to encourage your customers to shop or book services with you often, to compete for next year's end-of-year prizes.
Another way to reward customers is by creating digital loyalty cards and starting both new and loyal customers with one or two free stamps. We recommend giving them a deadline around spring of next year to create a steady flow of repeat business next quarter.
15. Support for Other Small Businesses
Show and gain support from other small businesses in your area. Give them social media shout-out, include them in your email newsletter, or throw in their business cards in your customers' orders.
You can also reach out to your local small business association to be included in their holiday shopping guide or find ways to collaborate with other small businesses that offer products and services that complement your offerings. Cross-promote by creating a social media or email marketing plan that allows you to reach each other's customers.
Other Ways to Prepare
In order to implement the ideas above, make sure you set yourself up for success by updating old ad copy, checking your website for any broken links, and verifying your contact information and hours of operation on every online listing.
You can also consider:
Optimizing your Google My Business page.
Revamping your automated ads.
Partnering with a local influencer.
Adding a holiday theme to your website.
Creating a holiday video from you and your team.
Boosting your social media posts.
Use a single platform to run your business and these changes will take you just a few minutes to make.
And even if you use multiple systems, these marketing ideas are still easy to execute, won't break the bank, and will help your customers keep your business in mind for both the holidays and the new year.