How do you currently keep track of your customers? How do you interact with them, send targeted promotions, request reviews, and keep them updated on your services?
If you own a business, it's imperative that you're able to do all of these things—and more. Meanwhile, if you're currently using multiple tools to manage your client communications, then you could be wasting valuable time better spent growing your business.
That's where GoSite's Contact Hub comes in.
Good news: Contact Hub is now part of GoSite's free trial. Find out more about how this tool will improve your messaging, boost customer engagement, and foster customer loyalty.
Does My Business Need Contact Hub?
Every business that deals with customers should consider a robust customer relationship management system—otherwise known as CRM. In fact, it's known that businesses with successful CRM usage have been able to increase sales by at least 29 percent.
When it comes to scheduling services and answering inquiries, customers care about automation and speed. However, customers also like to feel valued and included, which is why Contact Hub is essential for your business.
Ultimately, the more comprehensive and personalized your CRM system is, the happier your customers will be. Happy customers lead to improved retention and acquisition, more money in your pocket—and most importantly—a great reputation for your business.
A user-friendly system like Contact Hub is an easy means to help your clients remain informed and engaged.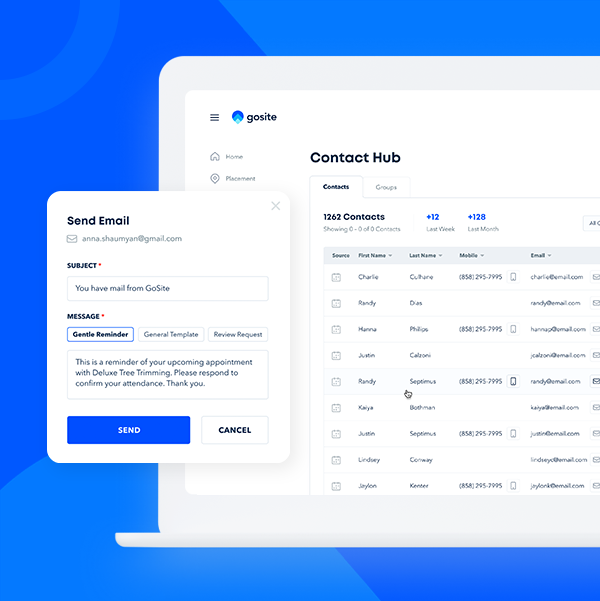 What Features Does Contact Hub Provide?
Contact Hub allows you to keep a centralized database of your contacts and segment them in a way that's best for your business to create a truly personalized experience for your customers.
The best part is...
Contact Hub is now available as part of our free trial, so you can check it out and enjoy the benefits of a high-quality CRM system—100% commitment free. Read more about Contact Hub's main features below.


1. Contact Management
Easily find, contact, and update your customers by having all of their information in one place.
GoSite's Contact Hub makes it easy to both congregate and segment information about your clients by providing you with one centralized hub.
2. Integrations
Contact Hub seamlessly synchronizes with other applications. This ensures that all of your most frequently used programs and tools are easily accessible and remain at your disposal—so you can run your business without a hitch.
When you sign up for GoSite's free trial, you are able to sync Contact Hub with systems, such as Outlook, Google, and more.
3. Personalized Interactions
Your customers are the heart of your business, so how you interact with them matters.
At the end of the day, different people prefer different communication methods. That's why Contact Hub allows you to group contacts and communicate with them in various ways.
With Contact Hub, you have the ability to fragment your customers based on what services they utilize, how often they receive premium services, or even their frequency in using coupons and promotions. This way, you can target each group of customers appropriately.
On top of this, GoSite's Contact Hub will let you create and schedule information to disseminate through customized emails or text messages.
4. 1-Click Messaging
Contact Hub's 1-click messaging tool supports the drive for personalized customer interactions.
Use this feature to send customized appointment reminders, discount offers, marketing information, or even a happy birthday wish—with one click, of course!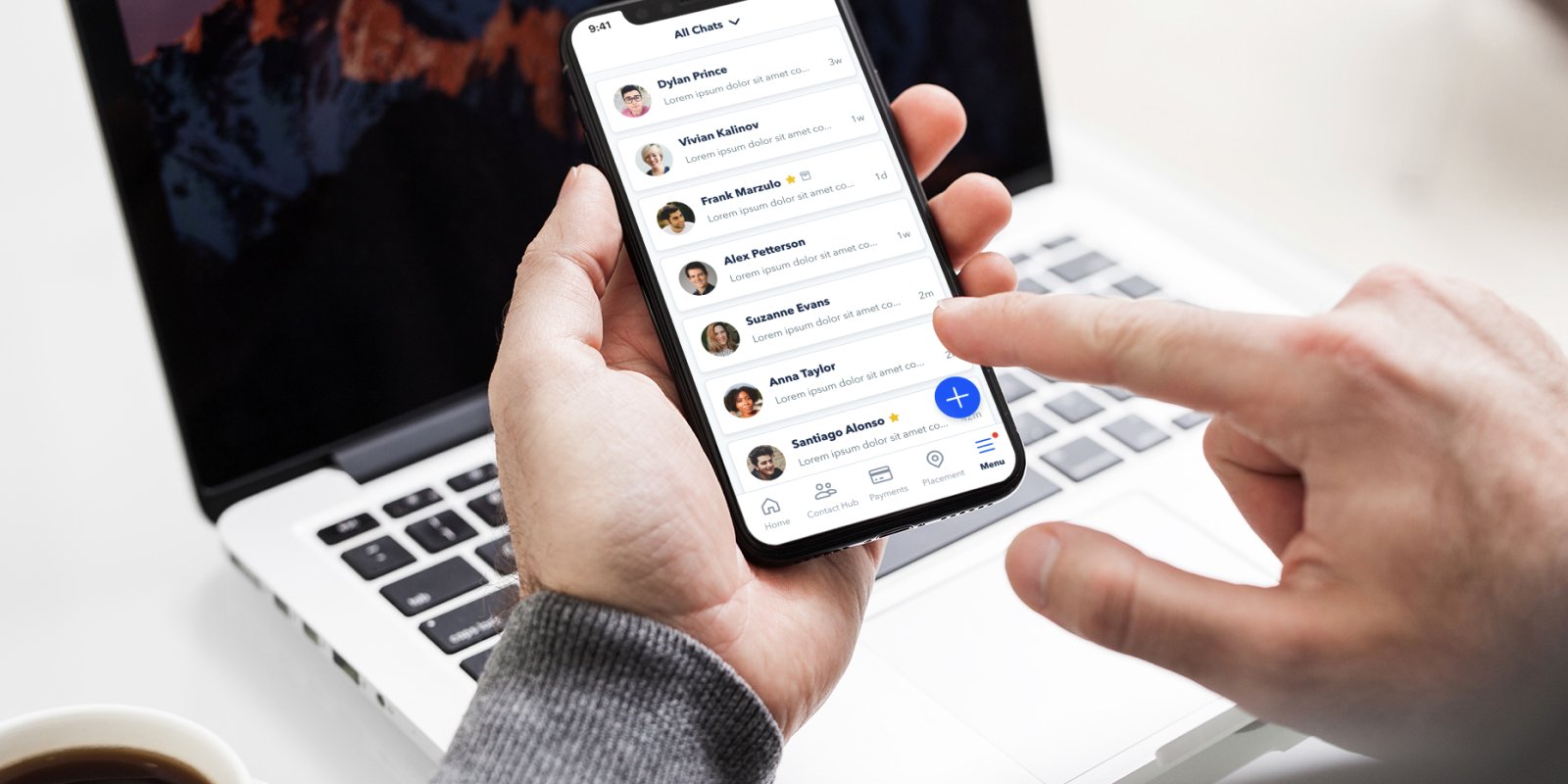 What Problems Can Contact Hub Solve for You?
Over the years, we've found that small business owners face three main issues when it comes to customer retention.
Here are the issues and how GoSite's Contact Hub will help:
1. It's hard to keep track of customers and their information
Contact Hub Solution: Contact Management
This is the foundation of every CRM system. Contact Hub permits you to centralize customer contact information, such as names, addresses, emails, phone numbers, and other important notes.
Use this feature to get a hold of your customers easily, as well as better understand and document their specific needs and pain points.
2. There is a lack in personalization with digital communication
Contact Hub Solution: Customization
The GoSite Contact Hub is both customizable and adaptive to integrations. This means that you can personalize your tools, communication methods, and preferred applications to really wow your customers.
Contact Hub makes it all the easier to help your clients book services, communicate with them by their preferred methods (i.e. text, email, or phone), and effortlessly track their payments.
3. There is a lack of engagement
Contact Hub Solution: Communication Tracking
With Contact Hub, you can keep track of every interaction—from message history to payment information.
The more you can remember about your customer and their needs, the better you'll be able to serve them. Rely on our communication tracking feature to guarantee that you never lose a customer (or a sale!).
How to Get the Most of Your Free Trial With Contact Hub
It's the free trial that just keeps getting better and better.
When you sign up for GoSite's free trial, you now have access to an all-in-one small business CRM system that will undoubtedly drive your small business's growth.
Stay in touch with customers, analyze your sales, organize your systems, and ultimately make it easier to run your small business.