Although 2020 has come with many unprecedented challenges, it's also brought on a few positive changes for small businesses that are here to stay. One of these includes an accelerated push for digitalization—encouraging businesses to optimize their presence online and reach more customers.
For general contractors and construction experts, quality and innovation is key to bringing in new clients, and your website is no exception, so we're highlighting some beautifully built construction websites to help inspire a user-friendly site of your own. We know small business owners often don't have a large budget to build their website, so our list includes simple and polished construction websites that still provide an efficient and engaging user-experience.

Whether you're just starting your general contracting business or are looking to revamp your website for 2021, this list will give you some great inspiration to help you build a stunning website for your customers, where they can easily find and book your services.
Jump to:
Jackson Design & Remodeling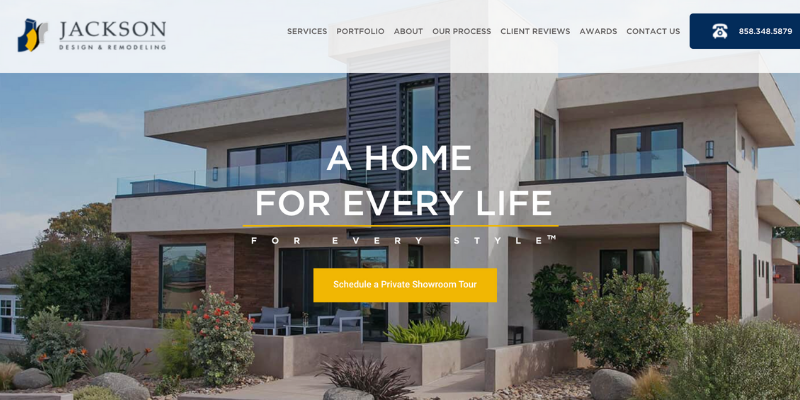 Jackson Design and Remodeling's website is robust and includes an up-to-date blog, information about each service they provide, and a locator where their clients can find remodelers in other areas of the country offering the same level of quality work as they do.
We like this website because:
It's easy to navigate.
It looks freshly updated with new content.
Important information including phone number, reviews, and bookings is easy to find.
Joel & Co. Construction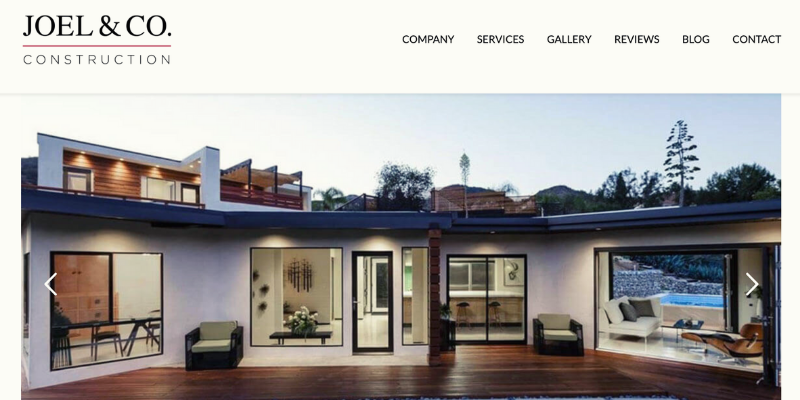 We love the clean and elegant look of Joel & Co. Construction's website. The photo slideshow on their homepage showing beautiful photos of their past work, along with the rest of the layout, gives a great presentation right off the bat.
We like this website because:
It gives a succinct description of each of their services.
The layout is simple and polished.
Their company description sounds personable and genuine.
Westlake Development Group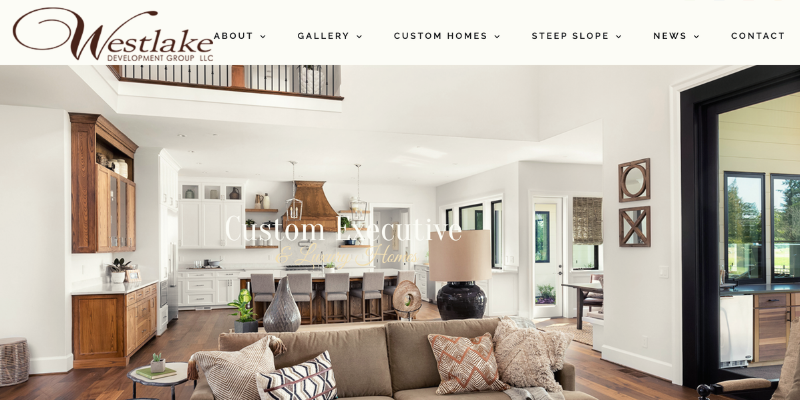 Another good site with exemplary imagery, Westlake Development Group uses multiple forms of content to create an engaging website. From professionally shot photography, video, and user-generated content from their social media, clients can easily view the full scope of their work.
We like this website because:
The copy reflects the demand in their area by providing information on steep slope and earthquake construction.
It integrates their social media channels to create a more personable experience.
It provides several interactive virtual tours to show past work.
Kaisar General Contracting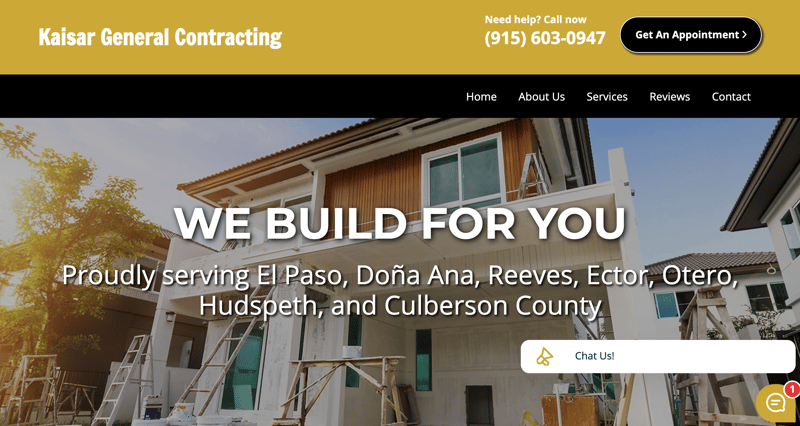 If you don't have professional images for every single service you provide, using crisp stock images will help your website stand out. Kaisar General Contracting is a great example of this—they sprinkle a few stock images along with their own to create a visually appealing site.
We like this website because:
It provides clear information on the areas they serve.
It offers a chatbox for prospective clients to easily type in any questions.
The calls-to-action are strong and relevant to each section of the homepage.
Cooper Design Build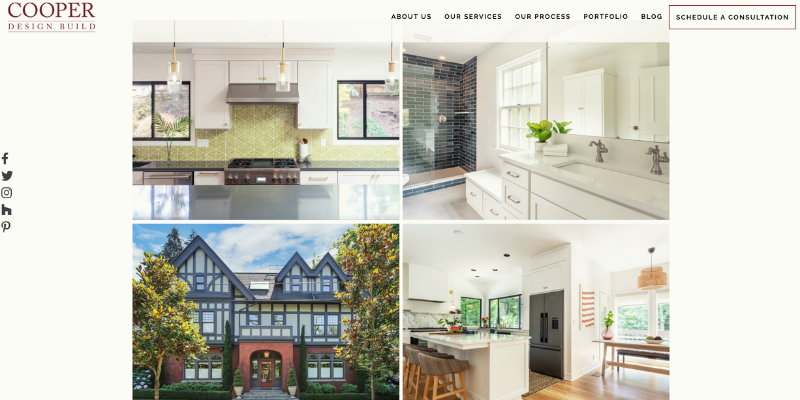 Cooper Design and Build's website is minimalist and modern with bright images and a clean layout. We also like their content offerings and calls-to-action at the bottom of the page which helps prospective clients view more of their work and read useful information as they embark on their remodeling projects.
We like this website because:
The images are beautifully shot and set large.
It provides a downloadable ebook to inspire future and current clients with the latest designs.
Past projects are presented with information about the property, customer testimonials, and a look into their process for that particular design.
GAM Design & Construction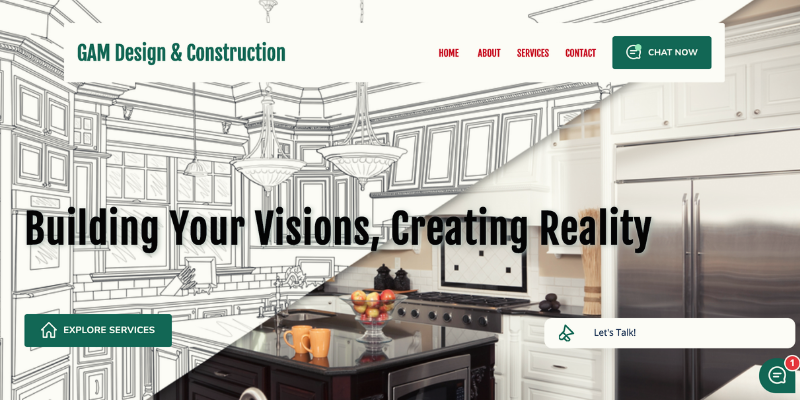 If you're looking to create something simple but still visually engaging for your clients, check out GAM Design & Construction's website. They use design to better showcase their services, make it easy for customers to reach them through prominent call-to-action buttons, and provide brief descriptions of their past work.
We like this website because:
It's straightforward and provides multiple ways to contact the company.
It uses a nice design overlay to make their homepage stand out.
Services provided are clear and supplemented with clean images.
Integrity Luxury Homes
If you have some great video content to share with potential, new, or current clients, check out Integrity Luxury Homes' homepage layout. We love the flow of their site as it starts with clear call-to-action buttons to explore past projects, learn about their processes, or start a project followed by professionally shot videos to help further reassure clients of their experience.
We like this website because:
It categorizes a few past projects by design style.
Each page contains a call-to-action to contact the company with a new project idea.
Accreditations and awards are clearly visible at the bottom of the home page.
Timber Ridge Properties
For another example of a simple but modern site, we love this one for Timber Ridge Properties. It looks optimized for the reader by highlighting their value propositions with a clear header hierarchy and balanced use of different font weights and styles. Their gallery page also categorizes past projects by design style to make it easy for prospective clients to check out designs based on their taste.
We like this website because:
It has a cohesive color scheme and balanced use of fonts.
It uses a modern but inviting theme.
It has clear calls-to-action to contact and check out their past work on the homepage.
Haley Custom Homes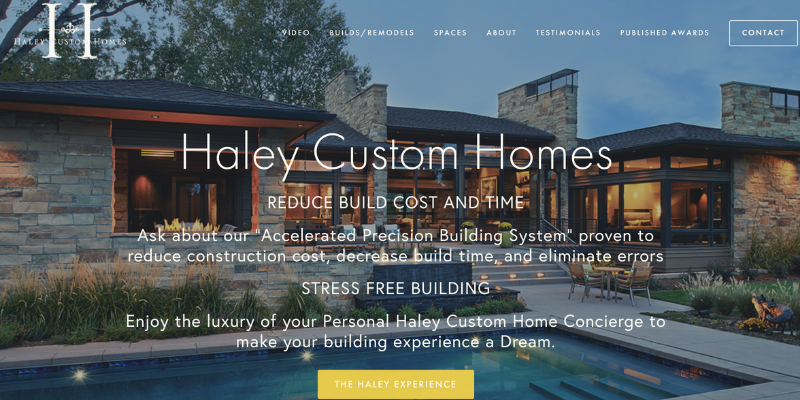 Making your website visitors feel like they're receiving a personalized experience and the best bang for their buck by choosing your services will help boost lead conversions. Haley Custom Homes does a great job of this by adding beautiful images to their home page, setting a clear call-to-action button inviting visitors to check out, "The Haley Experience," and placing their value propositions front and center.
We like this website because:
It highlights their concierge- and boutique-like home-building process.
It complements past work with customer quotes and testimonials.
It prominently places high-resolution images and video throughout the site.
Frontier Construction & Restoration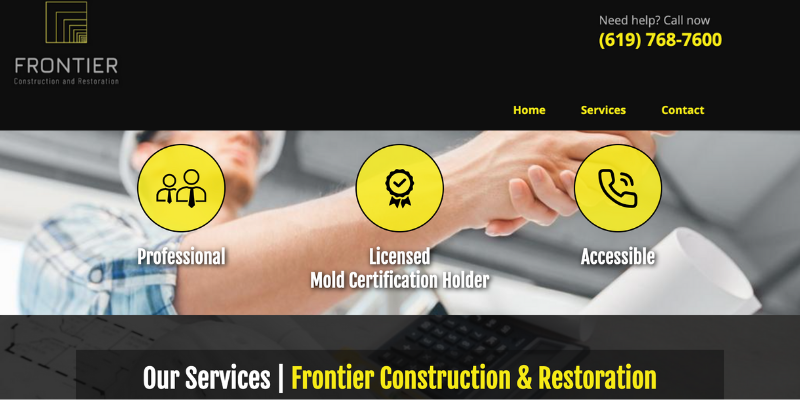 As we mentioned previously, we know small business owners often don't have the time or budget to maintain a blog on their site, add interactive features, or write about industry news and trends. However, you can still build an efficient, on-brand website that contains all of the necessary information your clients need—and Frontier Construction & Restoration is a solid example.
We like this website because:
It applies a balanced use of brand colors to make the layout stand out.
The images of past work look professionally shot and crisp.
Important information including phone number, email, hours of operation, and license number are in one place.
Castle Homes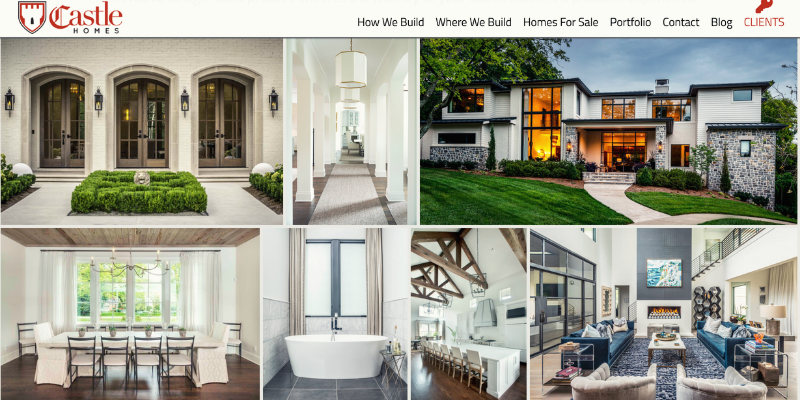 We love Castle Homes' website because it's robust and full of useful information but easy to navigate. The copy on their homepage is also inviting and provides information about their specialized services including green and sustainable building.
We like this website because:
It provides fun and useful content on their blog.
It highlights their value propositions on each page with cohesive copy and professionally shot images.
It's sophisticated but extremely user-friendly.
Becker & Sons Construction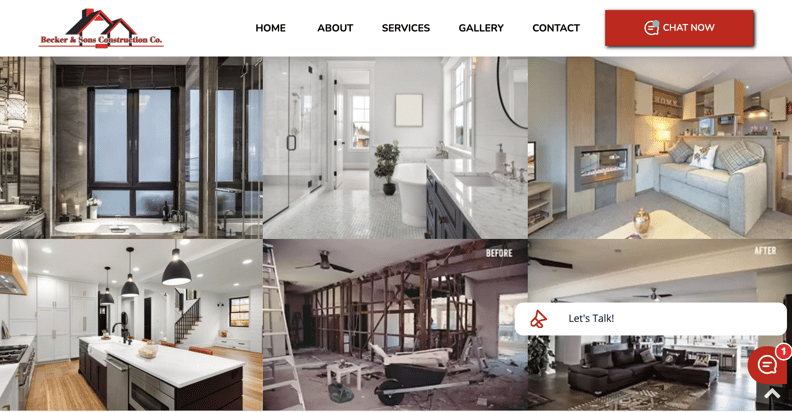 Becker and Sons Construction makes great use of imagery to create an on-brand feel throughout their site. Their use of clear calls-to-action and plenty of bright photos to show off their past work is a perfect example of how a straightforward, easy-to-navigate layout is all you need for your construction website.
We like this website because:
It's bright, inviting, and on-brand.
It has a unique and interactive review layout.
It provides plenty of images of past work throughout the site.
After viewing these examples, you're ready to build or customize your dream website for your general contracting or construction business. Be sure to check out our 5 Step Action Guide to Digitally Transform Your General Contracting Business to help you build a user-friendly website and ensure smooth sailing for any potential client that visits your site.