Starting a business is an exciting, yet intimidating venture. Anyone who has embarked on this unique journey takes away something from the process, and will tell you how much they learned along the way.
"I wish I had known..." is likely the number one statement grumbled by entrepreneurs all over the world, as industry secrets and tricks of the trade are often only revealed through trial and error.
But we want to save you time and stress, so we've spoken with several small business owners to find out that one thing they wish they had known before starting their business.
While no words of wisdom can replace knowledge gained through personal experience, we hope you find at least one piece of advice noteworthy as you take the leap into your entrepreneurial journey.
1. Establish a Unique Selling Proposition Early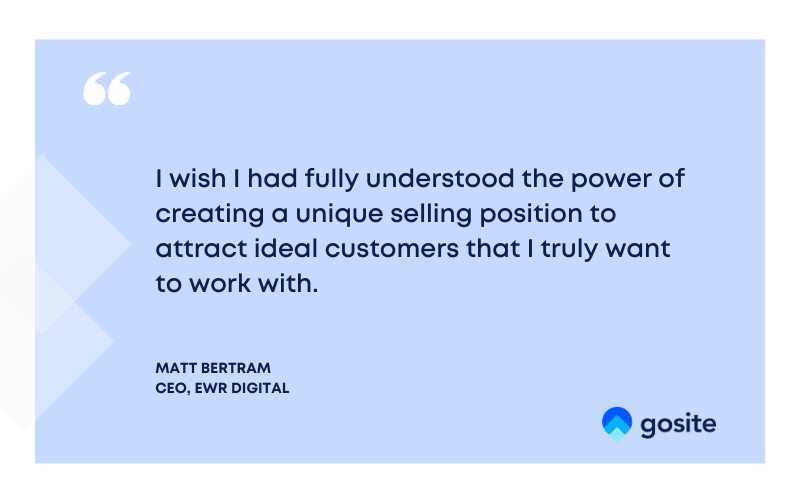 There are millions of small businesses in the world, and the evolution of technology both opens doors and makes it difficult to compete. Matt Bertram, CEO of EWR Digital, understands this and stresses the importance of having a unique selling proposition—as well as knowing your ideal customer—for your business.
Many newfound entrepreneurs fail to recognize the significance of identifying a selling point early on. Doing so is vital to streamlining other processes, such as marketing, development, success metrics, and more.
A unique selling proposition goes hand-in-hand with a target audience. As Matt points out, establishing both early on grants you the opportunity to work with the customers you "truly want to work with"—ultimately making your small business experience better.
2. Make Friends With Other Businesses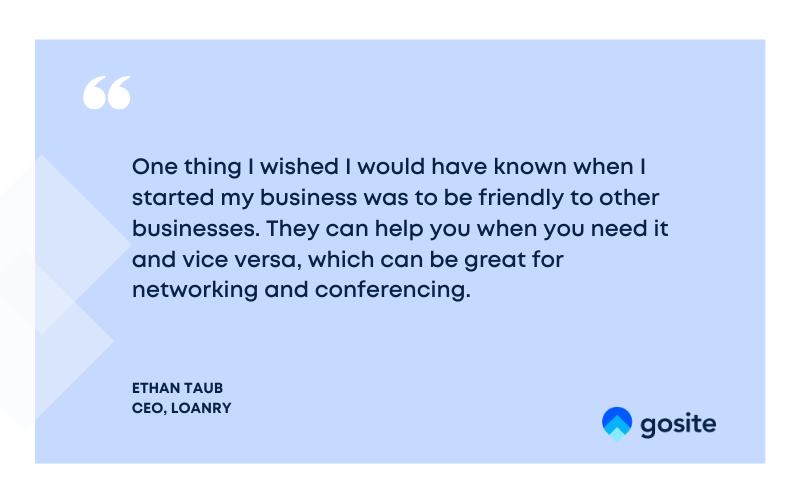 Ethan Taub, CEO of Loanry, now understands the networking power associated with befriending some or several of your competitors and fellow business owners. You can learn a lot by exposing yourself to other more established businesses—and by doing so, you'll likely meet like-minded people who can help you scale your business.
Working closely with competitors can feel counterintuitive, but it may just offer the unparalleled networking and growth opportunities that your startup needs.
3. Rely on New Tools to Help You Streamline Operations
Using new tools in the workplace can "provide you with more information, and lead to a much improved finished product," according to Andy Michael, founder of VPN testing.
As a business owner, you're required to wear several hats. Oftentimes, you're an accountant, a salesman, a marketer, and a recruiter all at once. Many new entrepreneurs forget that there are new technologies and tools that can simplify these processes.
So the next time you've spent over an hour trying to get to the bottom of something, consider looking into a software, system, or even group of people out there that can help you get it done faster and easier.

(Shameless Plug: GoSite was created for small business owners! Our all-in-one platform is an easy first step that you can take towards streamlining your business operations, with all the tools you need—in one place.)
4. Take Time to Learn From Those Ahead of You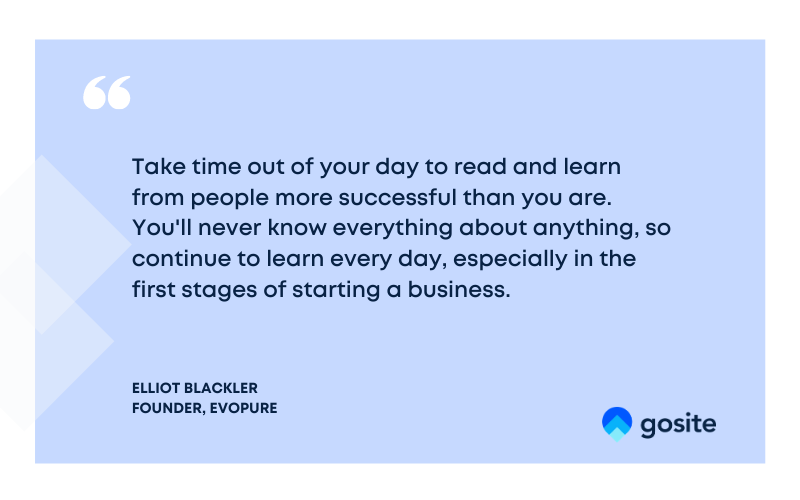 Elliot Blackler, founder of Evopure, wants to remind you to "learn from people more successful than you are." Regardless of your industry, there are trailblazers ahead of you that have invaluable insights to offer.
Reading is just one way to get a hold of this information. Podcasts, YouTube channels, blogs, forums, webinars, and networking opportunities are also great sources of inspiration for small business owners.
Finding time to take notes from others can seem like a chore, but it can save you time, energy and even money down the line.
5. Make Sure Your Customers Get to Know You, Your Values, and Your Mission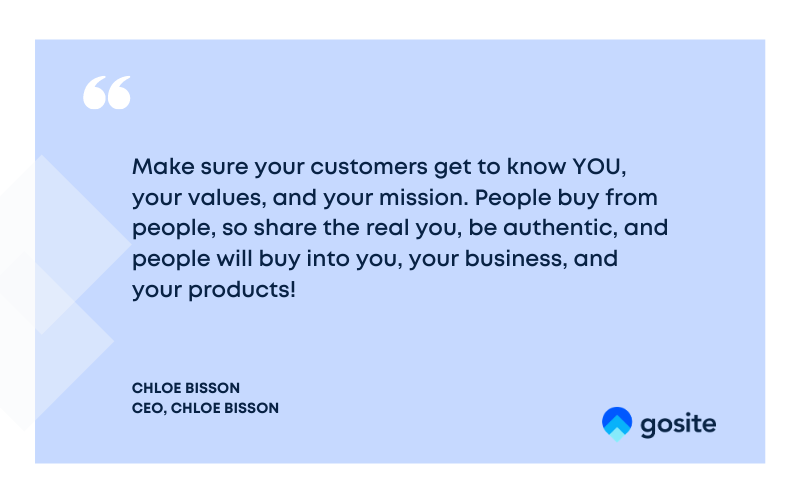 This piece of advice from Chloe Bisson, CEO of Chloe Bisson, touches on an important, psychological aspect of sales: "People buy from people."
Technology is undoubtedly useful, but having a personal connection with your customers is irreplaceable.
Try bringing more of your personality into your business through your:
Brand voice: How does your company speak to its customers?
Marketing efforts: Are you active on social media, your website, and other platforms? What aspects of your company do you emphasize in advertising?
Brand assets: Are your colors, fonts, and logos distinctive? Do they reinforce your company's personality?
Charitable partnerships: Does your company partake in philanthropic work that's unique to your values or mission?
Outreach: How do you currently attract new customers? Do you have a strong sense of customer service?
These are just a few ways to inject your company with a more personable quality.
6. Learn How to Delegate and Trust Others to Be Successful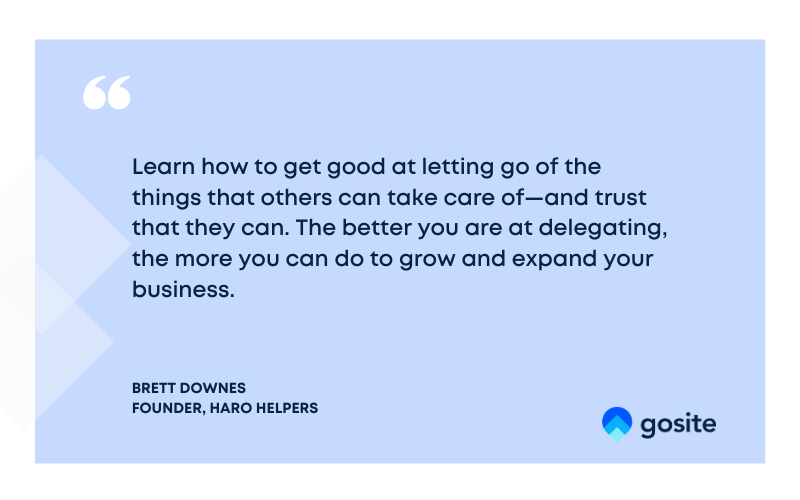 Successful leaders do exactly what Brett Downes, founder of Haro Helpers, recommends: They learn to delegate and they do it well—with confidence that those below them will succeed.
Whether you have tons of employees, or just a few right-hand helpers, it's imperative that you trust and empower those on your team to participate in growing your company. This action has a positive impact all around, as your employees feel enabled and you have less on your to-do list.
The more tasks you can dole out, the more time you'll have to spend on high-level priorities that require the attention of upper management.
7. Company Culture Should Be Designed and Built Like Any Other Area of Your Business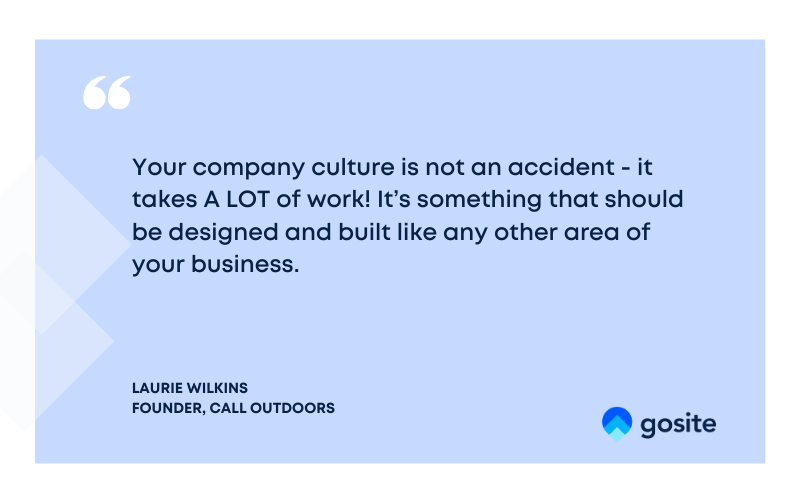 Laurie Wilkins, founder of Call Outdoors, wishes that she knew more about the importance of company culture before starting her company. She notes that "it's something that should be designed and built like any other area of your business."
New entrepreneurs usually emphasize the importance of sales, revenue streams, and advertising—as they should. However, in a developing company, there's no room to overlook culture because it's something that's difficult to change once it's established.
Having a good organizational atmosphere is key when it comes to empowering employee performance and satisfaction. In fact, more than 77 percent of people examine a company's culture before even applying for a job.
A well-developed company culture leads to more cohesiveness among your employees and ultimately, easier scalability.
8. Consider Search Engine Optimization (SEO) When Choosing a Domain Name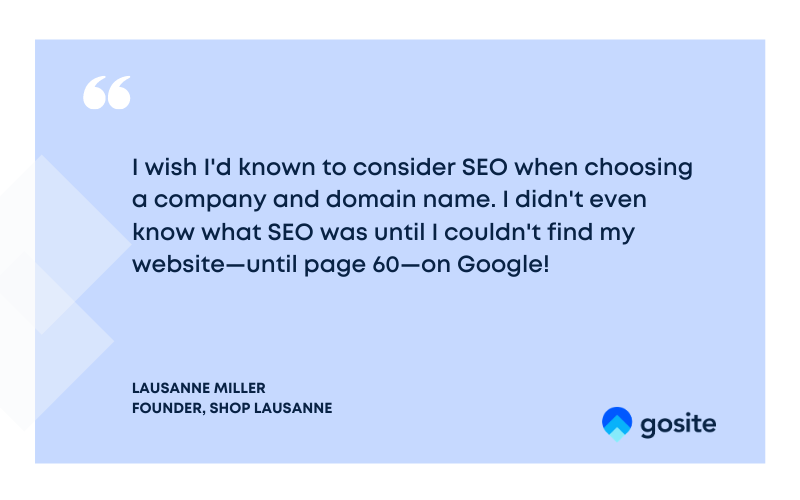 Shop Lausanne's founder, Lausanne Miller, believes that Search Engine Optimization (SEO) is an important business aspect to be considered before picking a domain name for your company.
SEO is a process that helps websites rank higher on search engines, such as Google. It involves updating and improving a website's content to increase the amount of people visiting the page.
Understanding SEO and the role it plays in gaining new customers is huge. It should absolutely be considered when choosing both your business and domain name. It's often beneficial to have a name that's related to your industry or specific area of work, as it'll help you show up online when customers type specific keywords into Google. For example, a name like "Miller's Lawn Care" is more likely to show up in search results when customers search keywords like "lawn care near me."
Learn more about SEO and its importance to your business from this page.
9. It's Okay to Say "No"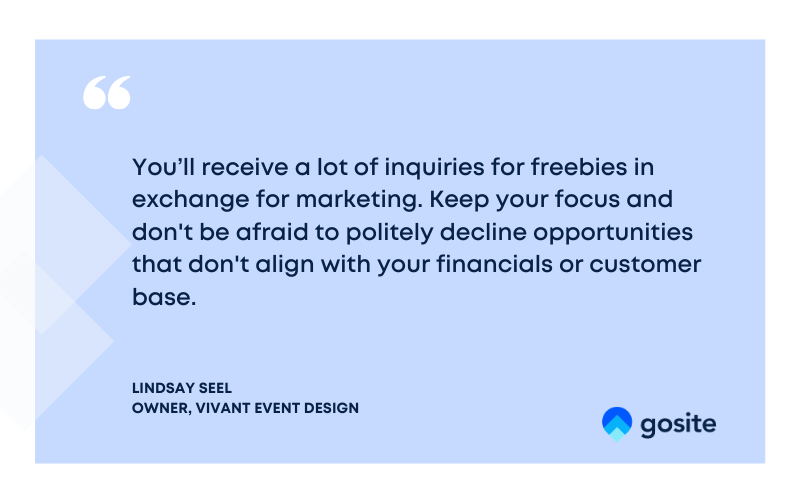 As mentioned before, new entrepreneurs understandably put a special emphasis on revenue streams. One thing that Lindsay Seel, owner of Vivant Event Design, wishes she knew before starting her company is that it's okay to say "no" to certain offers.
People may contact you offering marketing help (or other services) in hopes of getting free or discounted services. Instead of being tempted to take the "freebies," Lindsay advises that you stay focused on your company's internal financial capabilities and consider what's best for you and your business, as this will prove better for you in the long run.
10. You Won't Work Better as a One-Man Army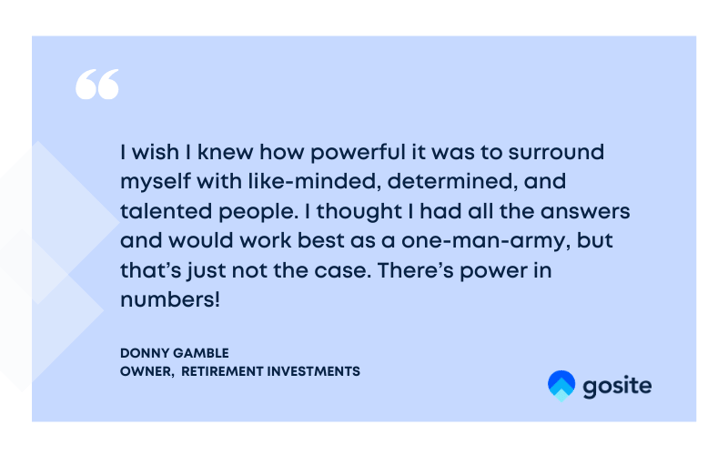 Google, Amazon, Facebook, and other world-changing companies wouldn't be nearly as successful as they are today without relying on several thousand employees.
This isn't to say that your business should hire by the thousands (or even dozens). It is to say exactly what Donny Gamble, owner of Retirement Investments, said: "There's power in numbers!"
Your company may be able to function with few or no employees, but, your business is far more likely to thrive when it's being scaled by "like-minded, determined, and talented people."
Not to mention, the experience of starting a business is made all the more valuable when you can share your successes and downfalls with others who are also invested in your vision.
Hit the Ground Running
Starting a business may be the most gratifying and challenging thing you've ever done. The process is confusing, exciting, difficult, and rewarding to say the least.
Just remember that there are many small business resources and entrepreneurial pioneers out there for you to lean on and learn from.