The year 2020 was….well, a year to say the least. From March to December we've witnessed an assortment of crazy current events, ranging from the start of a global pandemic to an impassioned presidential election.
While the last ten months were difficult and unfamiliar in many ways, there were also a lot of new opportunities presented. In a whirl of optimism, we want to take a moment to reflect on all of the positives that came along with this wild, unexpected year.
Here's a closer look into GoSite's 2020 timeline and all the good that came out of a unique nine months.
March 2020
The month that started it all.
GoSite is located in San Diego, California, and on March 19, 2020, our state declared a stay-at-home order. By the very next day, the GoSite team was working 100% remote—and absolutely killing it.
We're so proud that for the rest of that month—and into the following months—our team was able to keep up with their goals and continue onboarding customers who needed our support more than ever.
April 2020
One month into the chaos, GoSite began to break personal records. We increased our customer onboarding rate by 60%, as many small business owners started to bring their companies online.
Our passion for small business success had reached a new peak, and our mission of helping entrepreneurs was felt by each member of our expanding team.
By the end of April, our company had reached 200 employees—all of which were hired, trained, and working remotely.
May 2020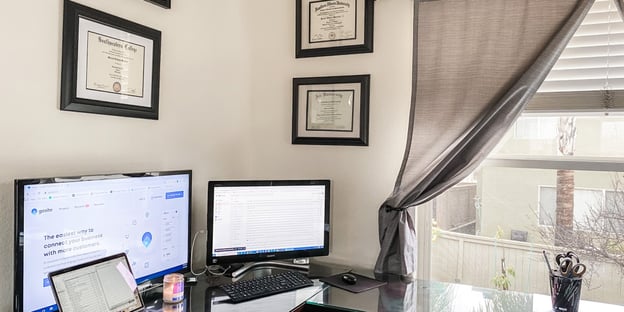 May brought the 90 day mark of working from home. To celebrate, GoSite hosted an at-home workspace competition. Bragging rights were granted to whoever had the best in-home office setup.
Meanwhile, people all over the country were questioning when and how offices would reopen, including us. As we continued to navigate distance working, our recruiters carried on strong with our hiring efforts.
GoSite had hired 28 new employees—myself included—by the end of May, and the growth didn't stop there.
June 2020
From May to June, GoSite brought on eight new team members and people were beginning to embrace the remote work lifestyle.
In June, we implemented a "team hangout." This was an optional video conference open to team members at any given time in hopes of getting people to work "together" even while apart.
The team hangout quickly became a beloved part of our work environment. It's hosted conversations, laughs, pets, and more. The team hangout was—and still is—a great way to meet new people and really keep up with fellow GoSiters. It proved especially important and successful for several of our new hires.
Another major feat in June was the creation of a Diversity + Inclusion Committee, which focuses on highlighting and supporting GoSite's commitment to fostering a friendly and productive workplace.
July + August 2020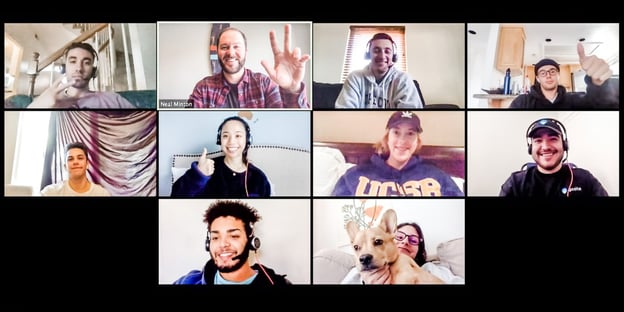 By mid July, the effects of the pandemic started to shift. We had hired over 60 employees remotely and weren't slowing down our scaling.
In the same month, GoSite announced its partnership with Shutterstock, allowing our web developers to use high-quality stock photos on our small business owners' websites.
Lastly, August was the month our exec team closed Series A funding. This was cause for celebration, as we were able to reinvest the money in our customers and the small business community.
Hiring
Since March, GoSite has had a 130.5% increase in employment thanks to our People Ops team. This means a lot to us because our team members are truly the key to our success; we wouldn't be GoSite without an awesome collection of people on our side, supporting our goal of helping small businesses succeed.
We feel fortunate to be able to provide jobs for several people during a tumultuous economic time.
2020 Awards and Accolades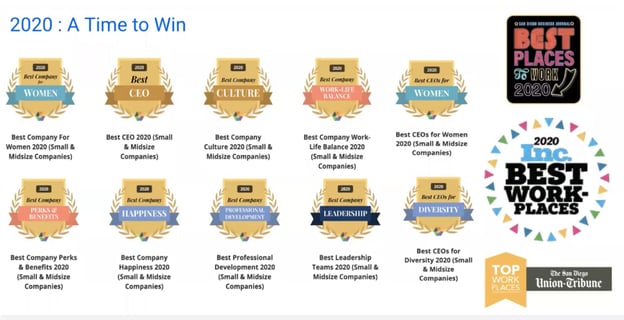 Luckily, we aren't the only ones to recognize our team's hard work. It warms our hearts to have received a number of 2020 company culture awards, including Best:
Company for Diversity
Company for Women
CEO
Company Culture
Work-Life Balance
Perks & Benefits
Company Happiness
Professional Development
Leadership
CEOs for Women and Diversity
On top of this, we were ecstatic to have been listed in Inc.'s Best Workplaces of 2020 list, as well as the San Diego Union Tribune's round up of 2020 Top Workplaces.
GoSite Gives
What better year to support fellow community members than 2020? GoSite Gives partnered with the following organizations throughout the year:
April-May: SD Made Factory.
June-July: NAACP Legal Defense and Educational Fund
August-September: California Community Foundation (wildfire support)
November-December: San Diego Food Bank
At its core, GoSite is a company founded on giving back. Whether we were fundraising or virtually grocery shopping, our ability to help our state and community during an unconventional and difficult year is something to note and love about working at GoSite.
New Year, New Goals
Looking ahead, GoSite doesn't plan on slowing down.
Our goal is to be the number one go-to resource for small businesses. We plan on getting there by continuing to scale our wonderful team, improving our platform day in and day out, and ensuring our customers are at the center of all that we do.
Here's to being excited about the adventure and success to come in 2021.