Learn where to find Google Insights on the dashboard, what each metric means, and how to adjust charts to fit your analytical needs.
Where To Find Google Insights
1. To get to the Google Insights page, first navigate to the "Placements" section of the dashboard on the left-hand side. Once there, click on the "Google" subsection.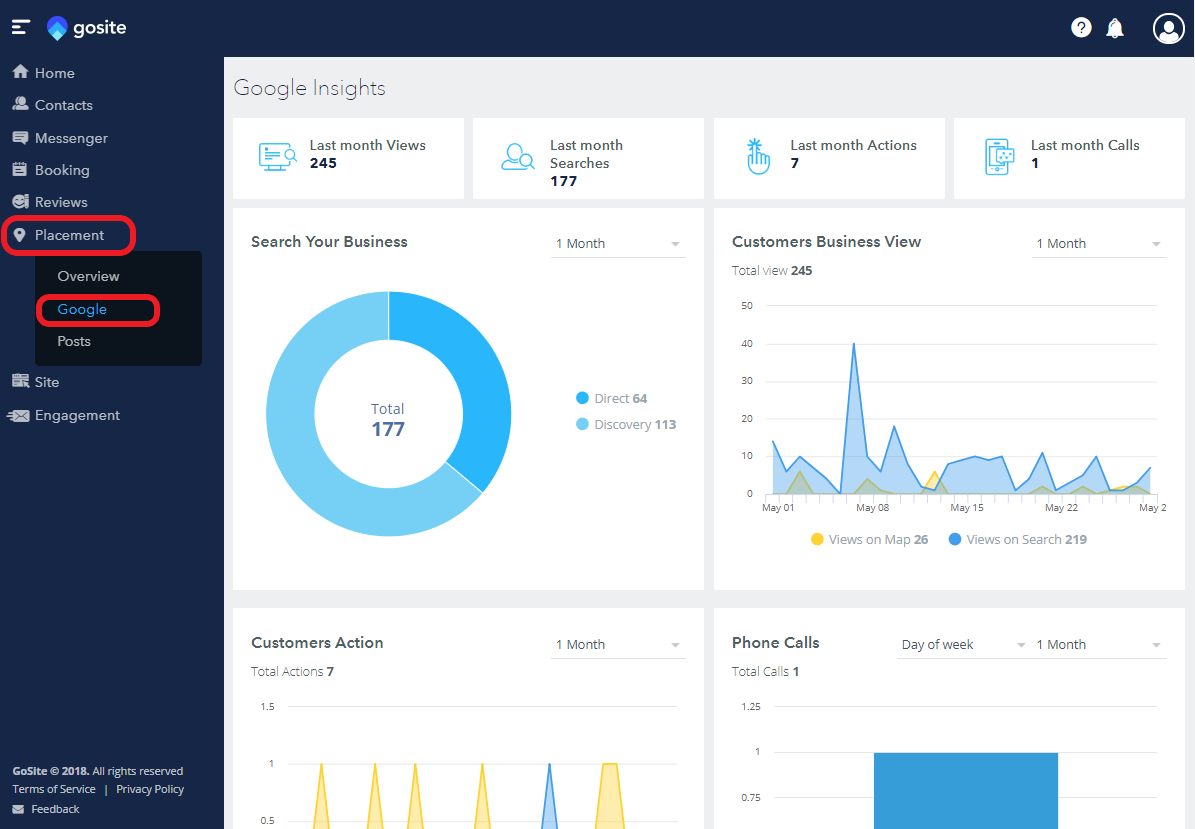 A Deep Dive Into What Each Metric Means
1. At the top of the page there is the first group of insights:
"Last Month Views" tells you how many times your website appeared in Google Search and on Google Maps.
"Last Month Searches" shows how many times your business appeared in Google Search
"Last Month Actions" tells you how many times prospects have called, requested directions, or visited your website through Google Maps or Search
"Last Month Calls" gives you the amount of phones calls you have received the Google Maps or Google Search.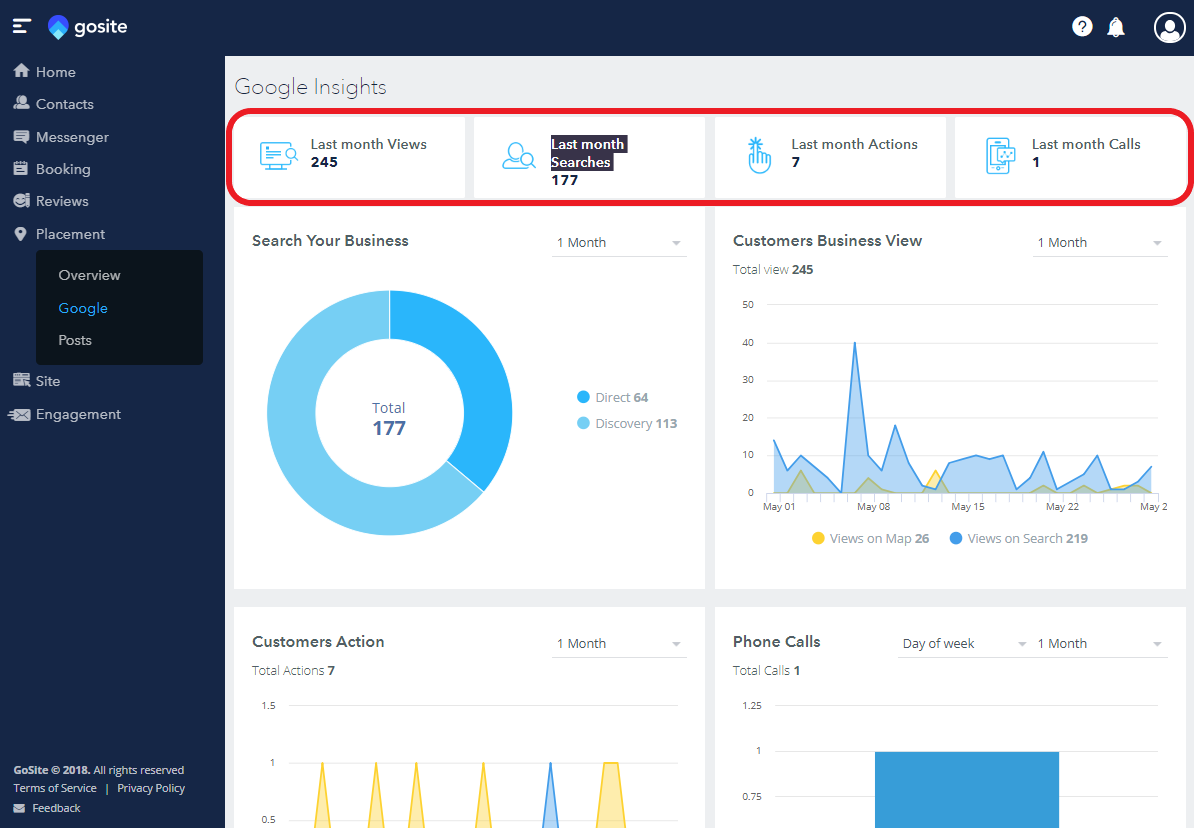 2. Below that first group of insights are a few charts that help to give visual representations of these metrics. The first chart is titled "Search Your Business," and compares direct and discovery searches.
Direct searches are when someone searches you by name (e.g. searching "GoSite")
Discovery searches are when a potential new customer searches a keyword and finds you for the first time (e.g., searching "software companies in San Diego" and finding GoSite)
You can change the period of time during which your searches appeared with the drop-down menu on the chart.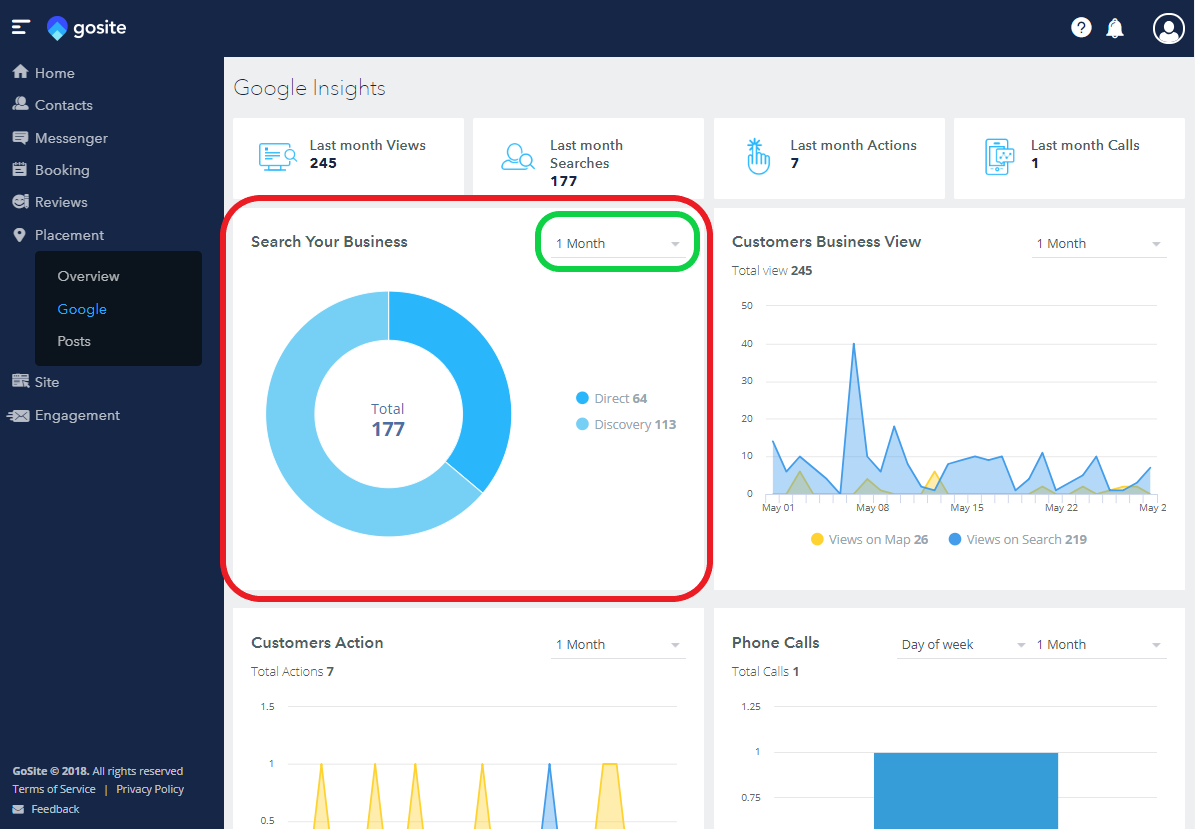 3. To the right of the "Search Your Business" chart is the "Customer's Business View" chart. This chart breaks down your total views by showing you if they were shown through Google Search or Google Maps. The chart also shows what date these views occurred and how many there were on each date. As with the other chart, you are able to change the period of time with a drop-down menu.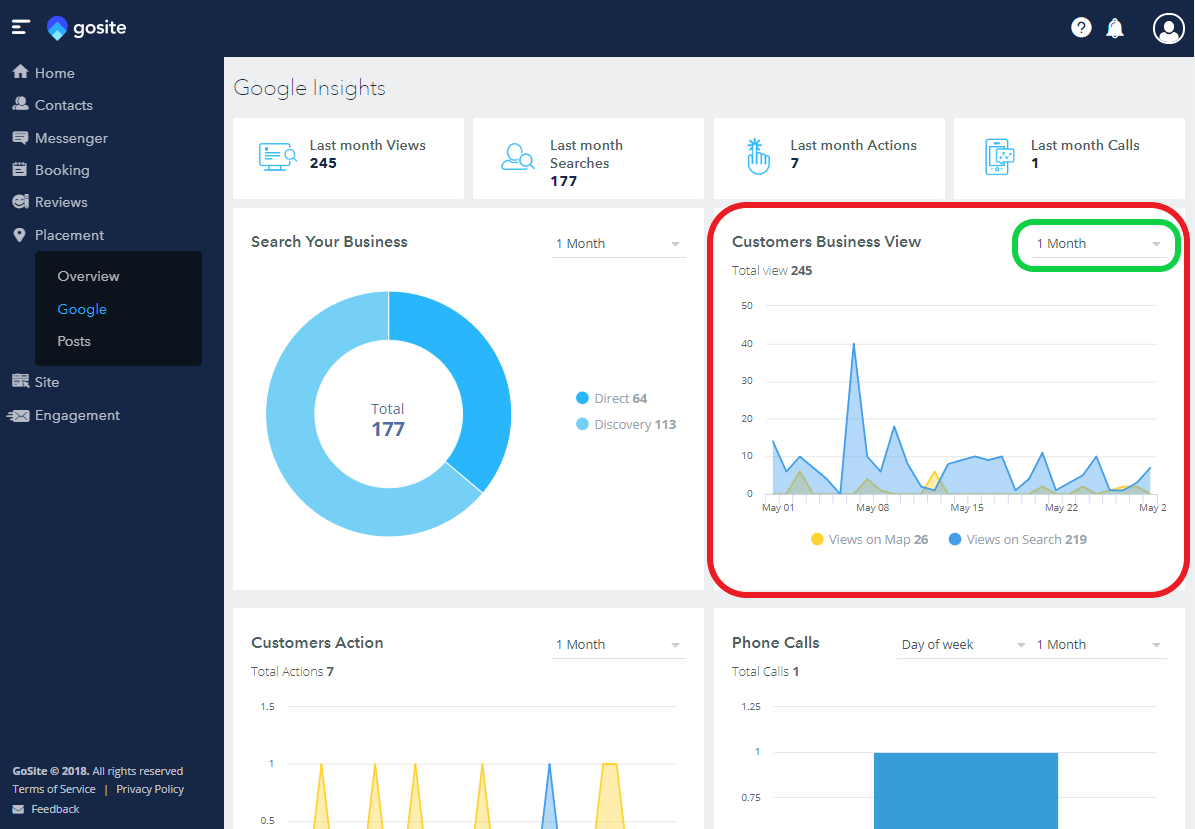 4. If you scroll down a bit there will be two more charts. The "Customer's Action" chart divides the types of actions your prospects have taken and on what date they occurred. These actions include website visits, calls, and requesting directions to your location on Google Maps. Like the other charts, the drop-down menu allows you to edit the period of time you'd like to analyze.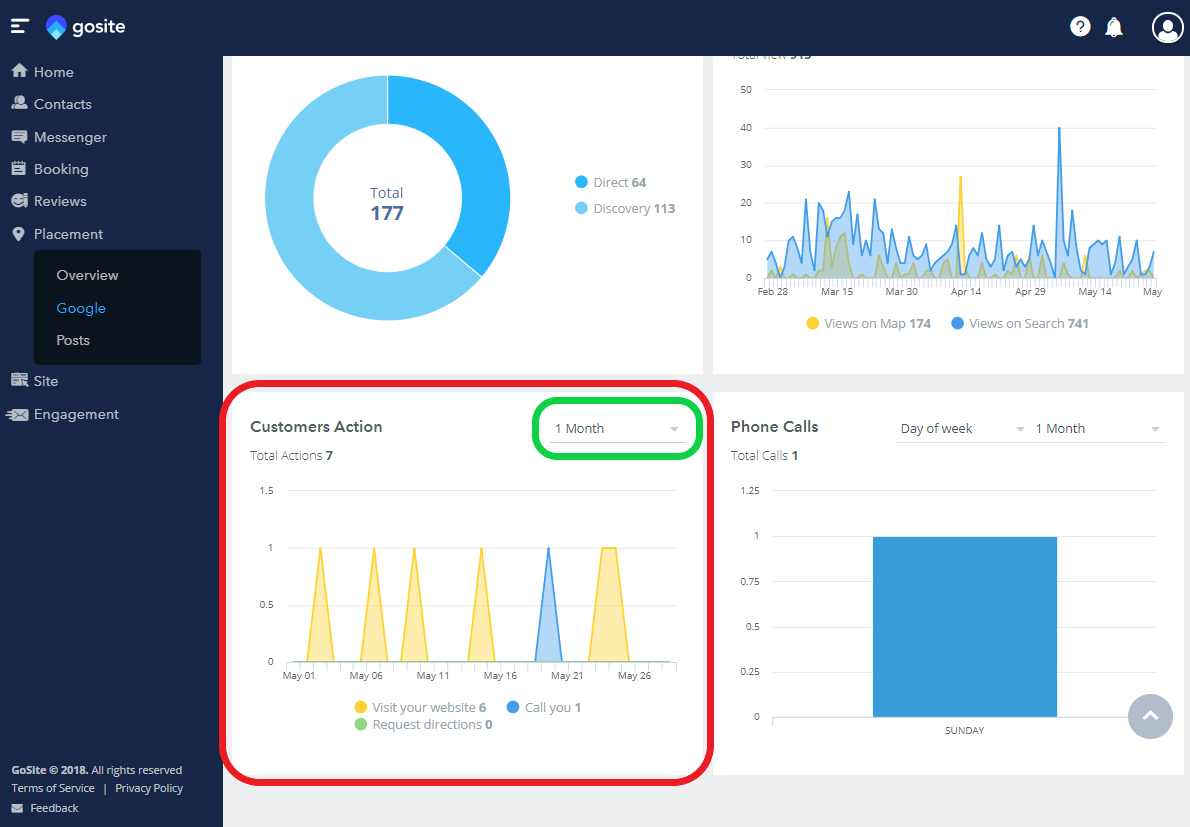 5. Lastly, the "Phone Calls" chart shows you when and how many phone calls you've received. You can change the time period and can even get so specific as to find out what day of the week and time a phone call occurred by editing the drop-down menus.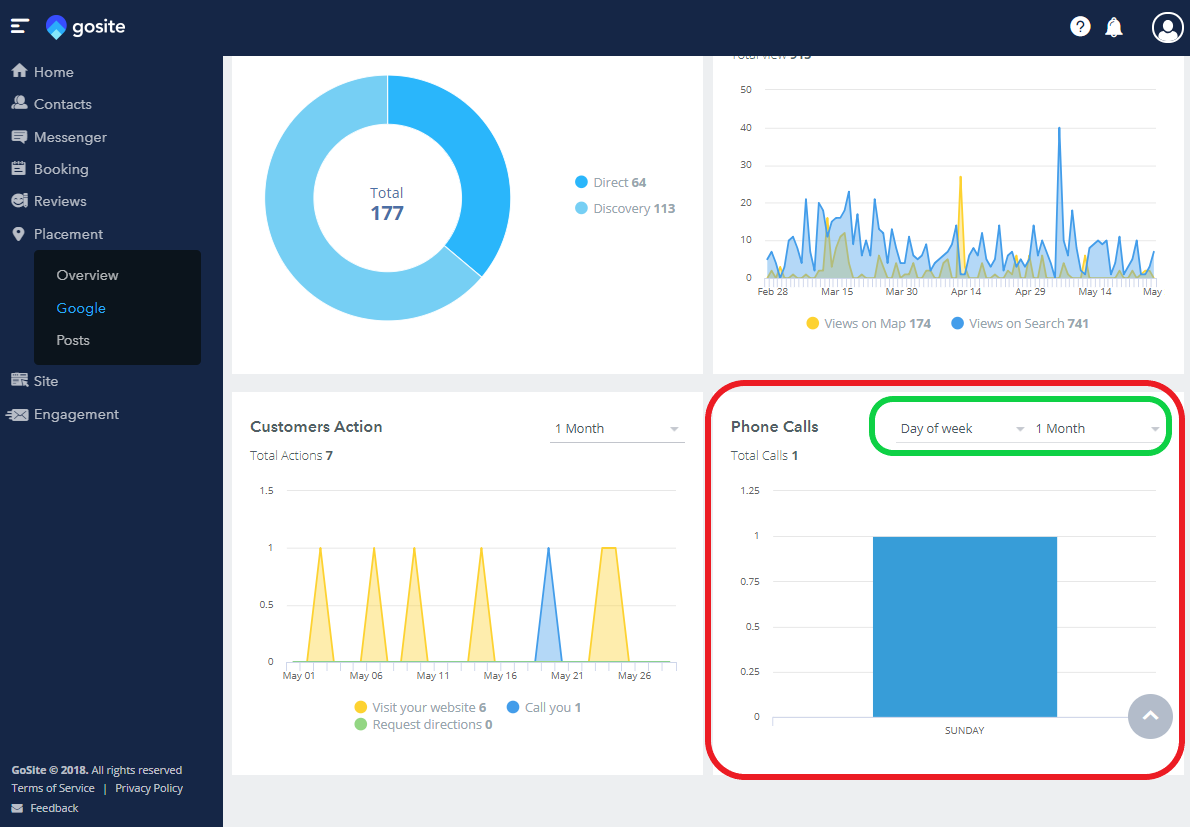 6. That's all of the Google Insights our dashboard provides! You can use these to see how your local search engine results are performing and to gauge your online business presence.