Do you have a mobile phone? I'm assuming the answer is yes. You, along with the 270 million U.S. citizens own a smartphone. So, what do you use it for? The list is endless because the answer is just about anything. Mobile phones have become a staple in everyday life — radically altering how people interact with the world around them.
It's an indisputable fact that mobile is the present...and the future. The world has a bad case of mobile mania — we use our mobile devices for almost everything. Mobile phones have become fundamental to our way of life, so it makes sense that businesses need to implement a mobile first strategy in order to stay competitive in an increasingly mobile world.
In today's mobile driven economy, businesses (especially small service businesses) need to adapt in order to survive in the ever-changing mobile era. A business shouldn't be stagnant: It needs to be able to evolve and change with the times in order to stay competitive. Adopting mobile technologies help businesses grow and operate smoothly from any location.
So what does it mean to run a business in a mobile world? Let's start by divulging exactly what the mobile world is. When I say mobile world, I am describing the way consumers operate using their phones, their buying behaviors and the prominent channel (mobile) that all businesses — big and small — have to appeal to if they want to continue to succeed. For businesses, this means total mobile optimization:
Website
Messaging
Social Media
Mobile app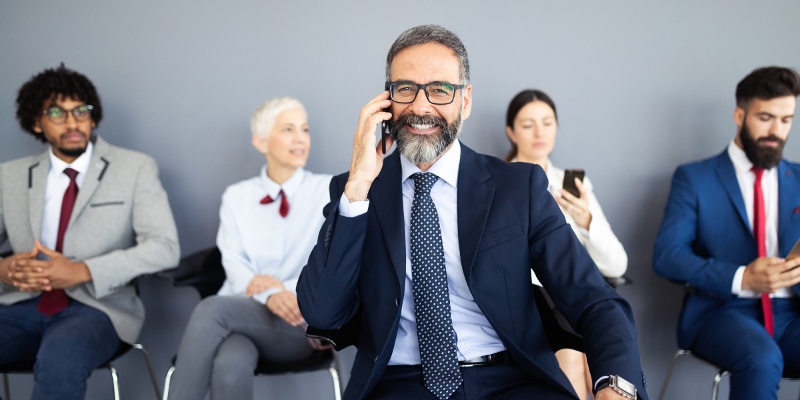 The Mobile Evolution
Website
It's increasingly urgent for you, as a business owner, to bring your business into the mobile scene, or you'll get passed over without a second glance. With so many options available at our fingertips, consumers won't hesitate to move to your competitor's page if they aren't satisfied with the content you provide. Lack of a mobile-friendly design is the number one reason that 40 percent of mobile site visitors leave and go to a competitor's site.
It's no surprise that consumers have high expectations for your mobile page. No one likes an outdated website. In fact, 85 percent of adult users think that a company's mobile website should be as good, if not better, than its desktop version. By creating a responsive website design, you will give consumers exactly what they want, and inevitably grow your customer base.
It only takes 0.05 seconds for a user to form an opinion about your website, which dictates whether they stay or leave. In other words, a user's first impression of your site matters and you have a very short window of time to impress them.
Your mobile website's loading speed is equally as important as its mobile first design. Speed is a critical component in satisfying viewers. 40 percent of consumers will leave a page that takes longer than 3 seconds to load. The mobile experience has altered (and ultimately diminished) what people are willing to put up with. If you want to stay competitive, your business has to adjust it's strategy to accommodate these changes too.
It's clear that mobile users are unwilling to wait around for a slow website to load — and in today's digital age, they don't have to. A competitor will swoop in and offer the solution they're looking for.
Messaging
How do you communicate with your customers? Even if your engagement level is satisfactory, there is always room for improvement. The goal is to have a mobile-first messaging strategy for your business.
Increase customer interactions by making it quick and convenient on the go. Mobile users are all about getting what they want and how they want it. Forcing your customers to wait and responding in a few days is no longer a feasible option for your business.
Enable consumers to instantly engage with your business by providing mobile customer service and communication on the go. Constant connectivity is key — offer communication options on all major channels: text messages, email, Google, social media, live chat, your website and more. All communication should translate over to your mobile phone so that you can respond in real time.
It may seem over the top, but adopting these practices will propel your business into the future (and stay present!).


Social Media
Optimizing social media platforms and adopting a mobile first approach go hand in hand. 91 percent of all social media users access social channels via mobile devices.
So, how are your business' social profiles looking? Do you update them often? Social media dominates the modern world: It has completely transformed communication standards for consumers and businesses alike. Whether you like it or not, social media is a trend we have to live with. About 3.5 billion people (and counting) engage with some form of social media platform. This staggering number is hard to ignore.
With Facebook, Instagram, Snapchat, Twitter, LinkedIn, Google+ and a surplus of others, you have to take advantage of these valuable marketing platforms and establish a solid content strategy that works for you. Because the audience reach is so extensive, the possibilities are endless.
If utilized correctly, social networks can give your business significant leverage in the digital world. It's an opportunity for you to connect with more users than ever before and provide valuable information about your business.
By optimizing your social media profiles, you are enabling consumers to learn more about your products or services, create brand awareness, boost traffic to your website, generate quality leads that result in sales, and increase engagement levels by offering the ability to send messages, leave comments and ask questions directly on your social profiles.
On the contrary, outdated, disorganized or unattractive social media profiles are a major red flag for consumers. It's a clear sign that your business is obsolete and behind the times.

The Mobile App
If possible, create a mobile app for your business. It doesn't have to be fancy, but it will make the searching and buying process for your customers seamless and pain-free. A mobile app offers solutions that can anticipate the users needs and then consistently deliver valuable results to make for an effortless process. An app is all about the functionality — a level of convenience that even a mobile website might not be able to achieve.
It comes as no surprise that about 89 percent of people on smartphones are using apps, while only 11 percent are using standard websites. They're cleaner and easier to navigate than a mobile website, no matter how responsive the site may be. Making the switch over to a mobile app could boost your levels of customer engagement, grow your customer base and eventually lead to more sales.


Mobile Makes Life Easier
As a business, entering the mobile world can seem daunting. Mobile technologies are advancing incredibly fast and it can be hard to keep up and accommodate the modern consumer. But the rewards are worth it. It's clear that mobile is where the customers are. Embracing mobile technology will revolutionize the way you do business. Making these changes will boost sales and give you an extra edge over your competitors.
Shifting your business to be mobile first will:
Revamp your website;
Hit a much larger audience by engaging mobile users;
Improve customer communication by enabling messaging on the go through a variety of channels; and
Ultimately, help your business succeed.
The mobile era is upon us and it's not disappearing anytime soon. Is your business ready for it?