Starting a business in a time when many are struggling to stay afloat or even closing down may be discouraging you from pursuing your dreams. However, by digitally enhancing or transforming their offerings, many business owners have been able to survive and even thrive during COVID-19.
In fact, a recent study found that the pandemic has accelerated the digitization of companies by three to four years—and this change will only increase from here. Therefore, a successful new business venture is still possible as long as there's a demand for your services, and your business is equipped to operate online.
If you're ready to start your new business or are figuring out if your idea is viable in these uncertain times, getting expert tips and insights can be incredibly helpful. And since you're just getting started, you may not have many connections. If this is the case, podcasts are a great way to get free and valuable advice from experts in any industry.
To save you some time, we put together a list of some of the best podcasts you can listen in on to start, market, and even inspire your business. All of these podcasts have recorded episodes on dealing with COVID-19, recessions, and uncertainty. We also include podcasts geared towards women, veterans, and Black entrepreneurs to help you better manage any specific obstacles you may run into.
Lastly, keep reading to find a top-rated podcast for a few popular industries. Whether you're opening a general contracting, landscaping, beauty, or pet business, this list is sure to provide you with all the tools you need to succeed.
Jump to podcasts for:
Podcasts to Get Your Business Started
Let's start with the basics. Below you'll find some of the best podcasts out there for entrepreneurs and small business owners. Our first roundup is a list of basic business 101-type podcasts which are perfect for big-picture planning.
To learn how to promote your business and develop strong social media, content, and advertising strategies, listen in on the marketing podcasts below. Since you'll need tons of inspiration, we also list inspirational podcasts to ignite your creativity and encourage a sustainable, work-life balanced approach for your launch.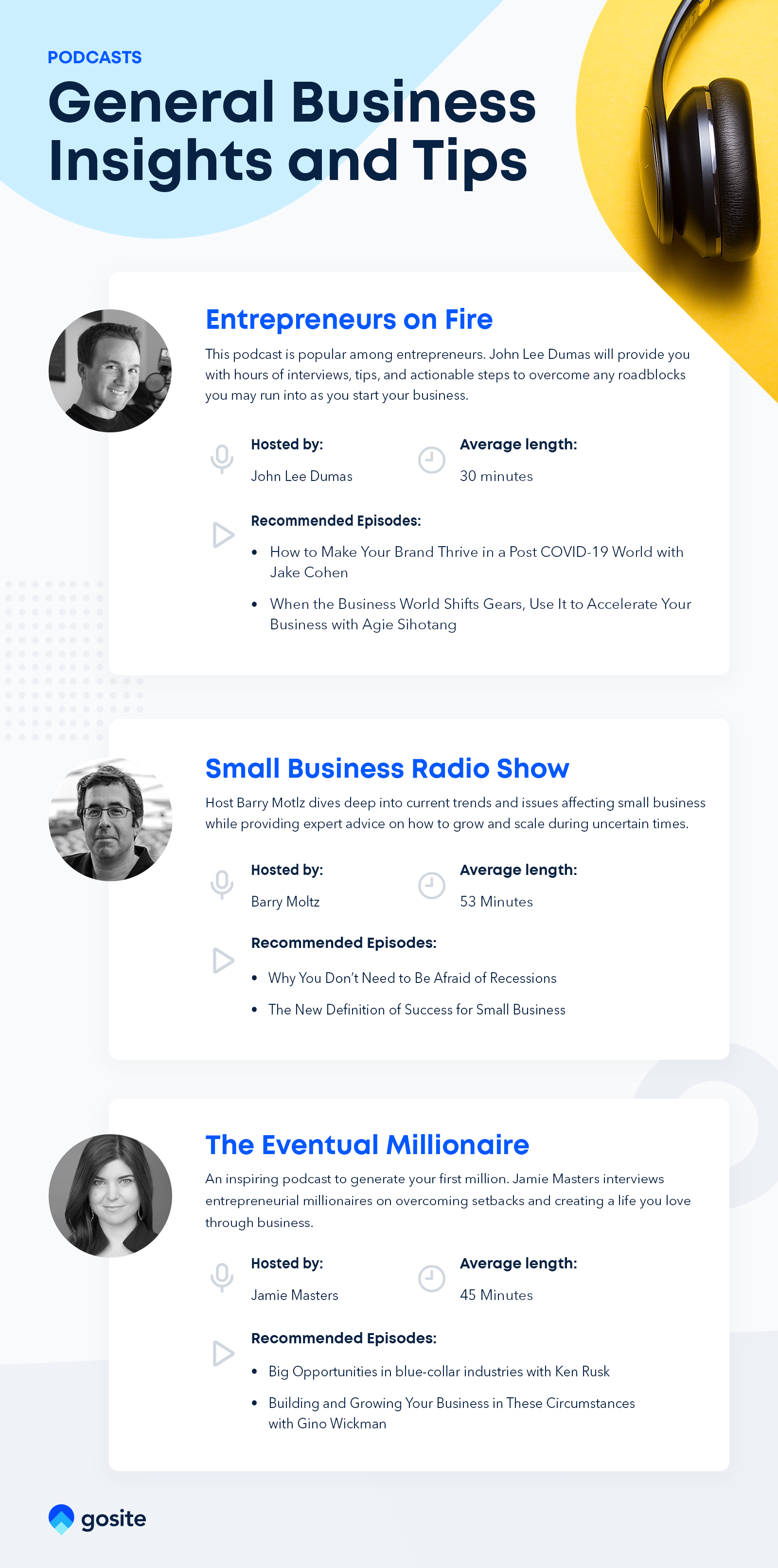 Listen to these business podcasts here:
Entrepreneur on Fire | Small Business Radio Show | The Eventual Millionaire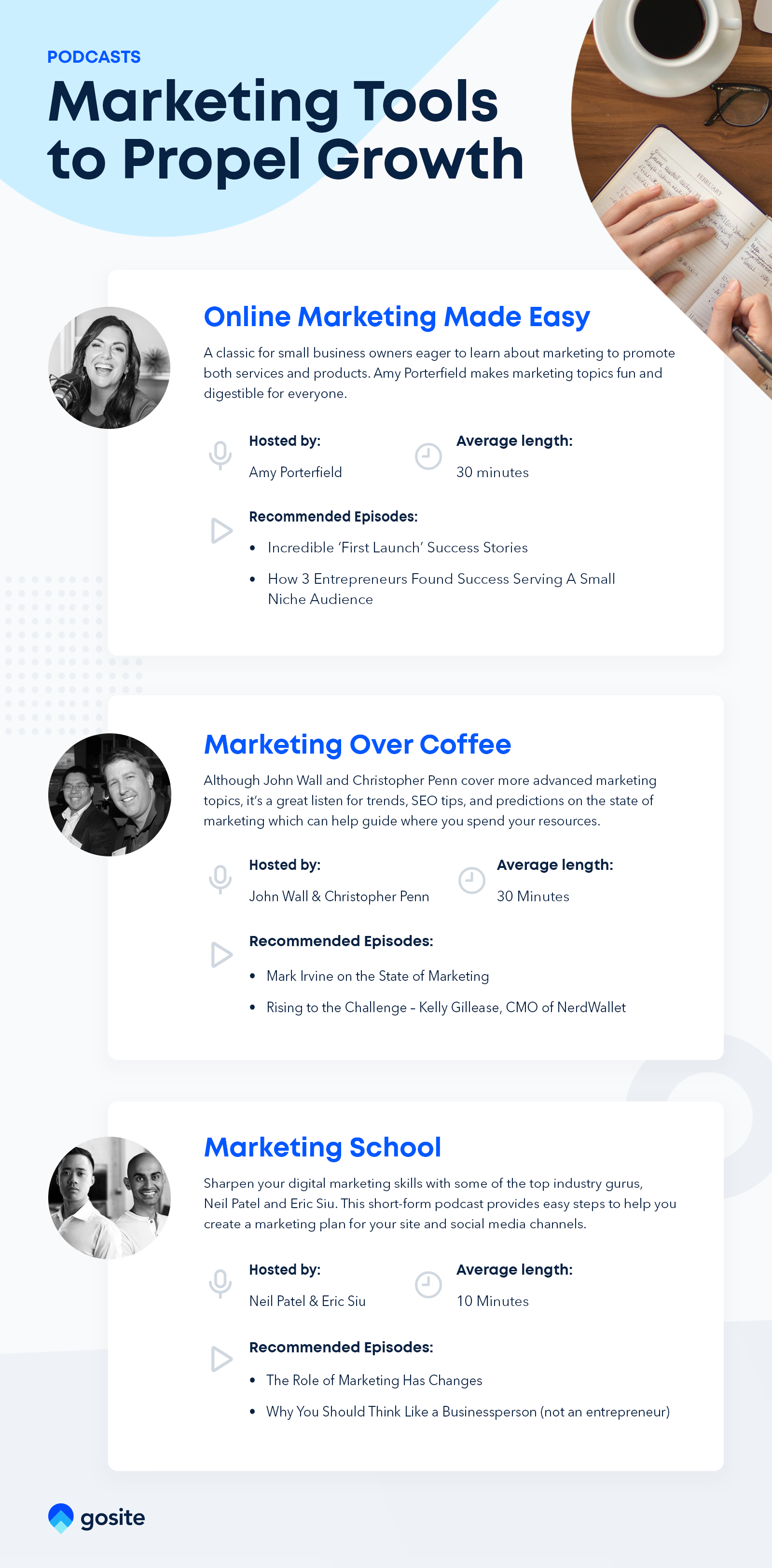 Listen to these marketing podcasts here:
Online Marketing Made Easy | Marketing Over Coffee | Marketing School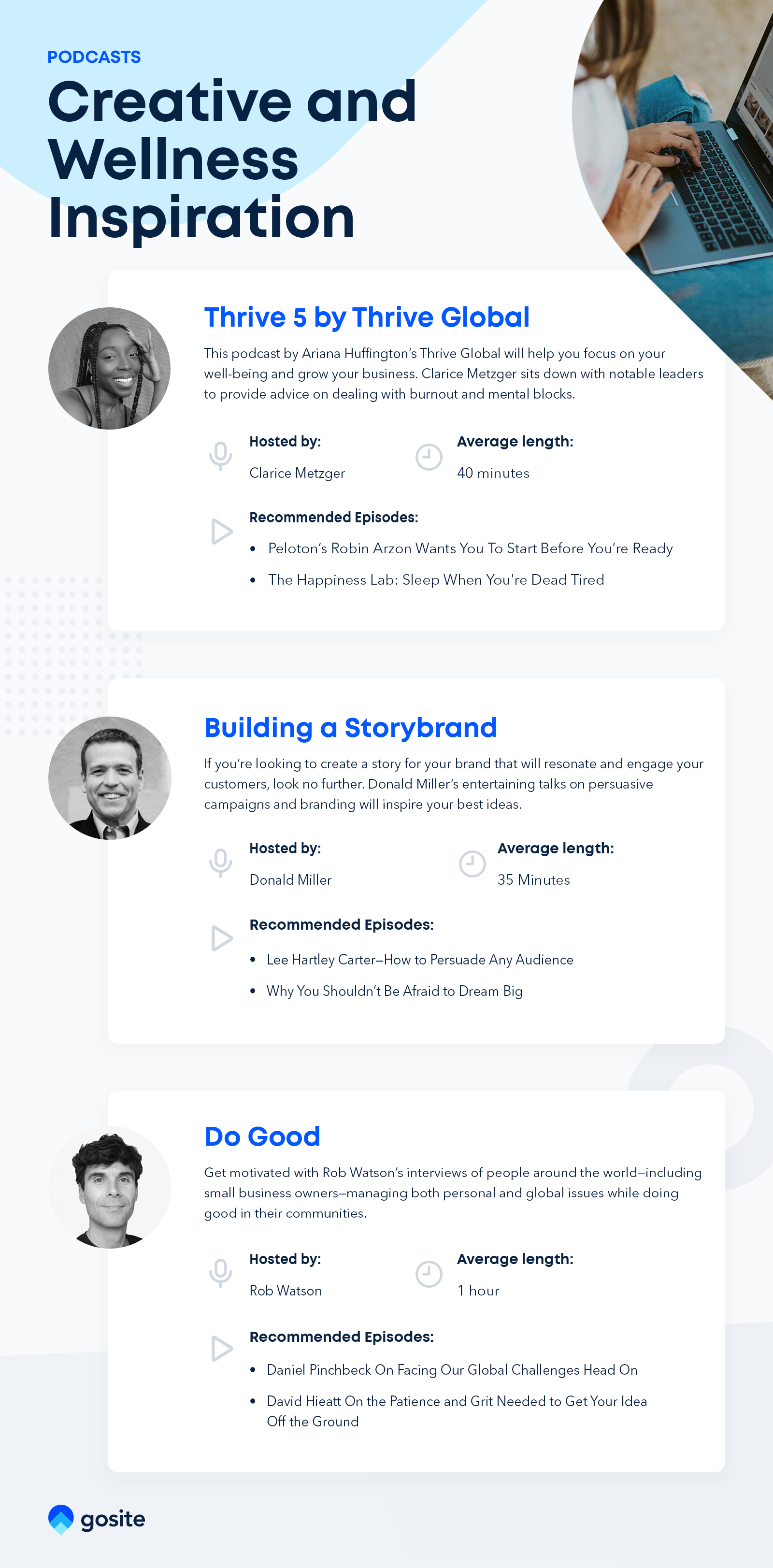 Listen to these inspiring podcasts here:
The Thrive Global Podcast | Building a Storybrand | Do Good Podcast
Resource-Specific Podcasts for Business Owners
Whether you're trying to break the glass ceiling, tackle systemic disparities, pivot your career after military service, or all of the above, finding in-depth discussions on the unique challenges you face can help you discover tools you may not have even known existed.
Browse through our roundup below to find podcasts that aim to motivate and inform women, Black, and veteran entrepreneurs on all things business.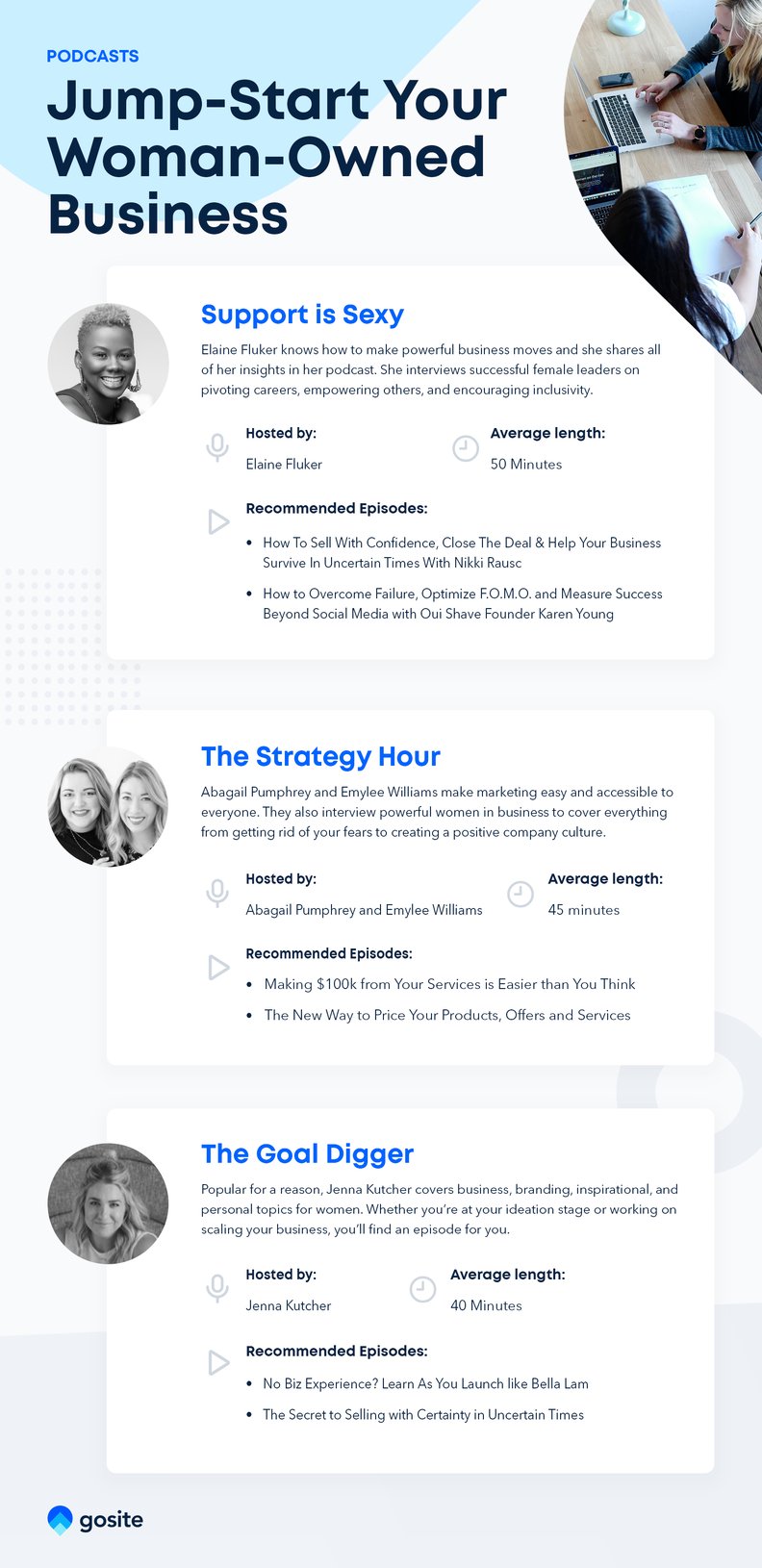 Listen to these podcasts for women entrepreneurs here:
Support is Sexy | The Strategy Hour | The Goal Digger

Listen to these podcasts for Black entrepreneurs here:
Brown Ambition | Cash Flow Diary | Behind The Brilliance | Black Entrepreneur Blueprint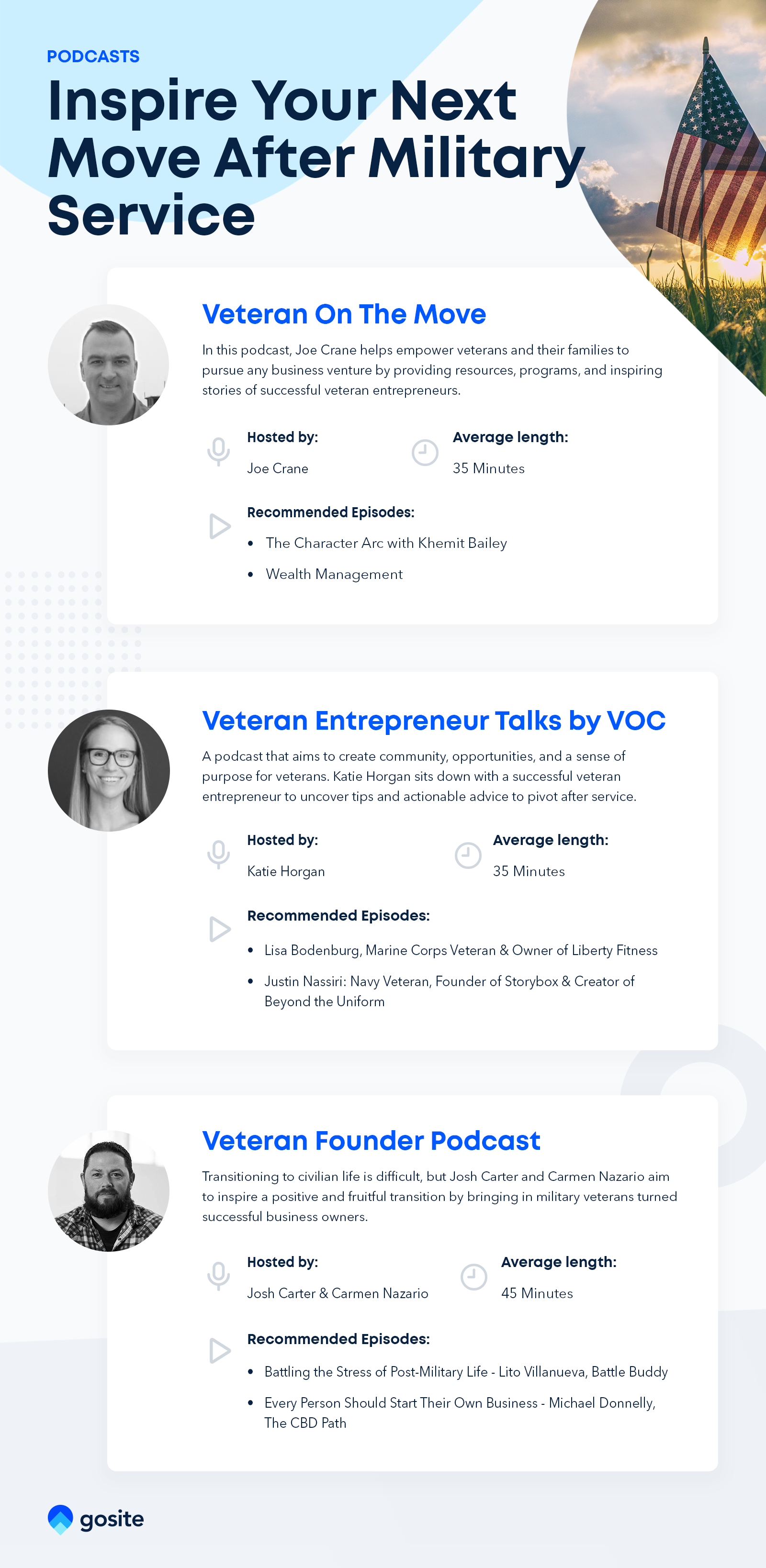 Listen to these podcasts for veteran entrepreneurs here:
Veteran On The Move | Veteran Entrepreneur Talks | Veteran Founder Podcast
Industry-Focused Podcasts
One of the best things about podcasts is that they can be incredibly niche. With a quick search online, you can find tons of podcasts that discuss how to start any type of business. Luckily, you don't have to go down a rabbit hole to find the best ones because we've done the work for you.
Check out our recommended podcast for your industry below, including construction, landscaping, beauty, fitness, cleaning, childcare, and pet services.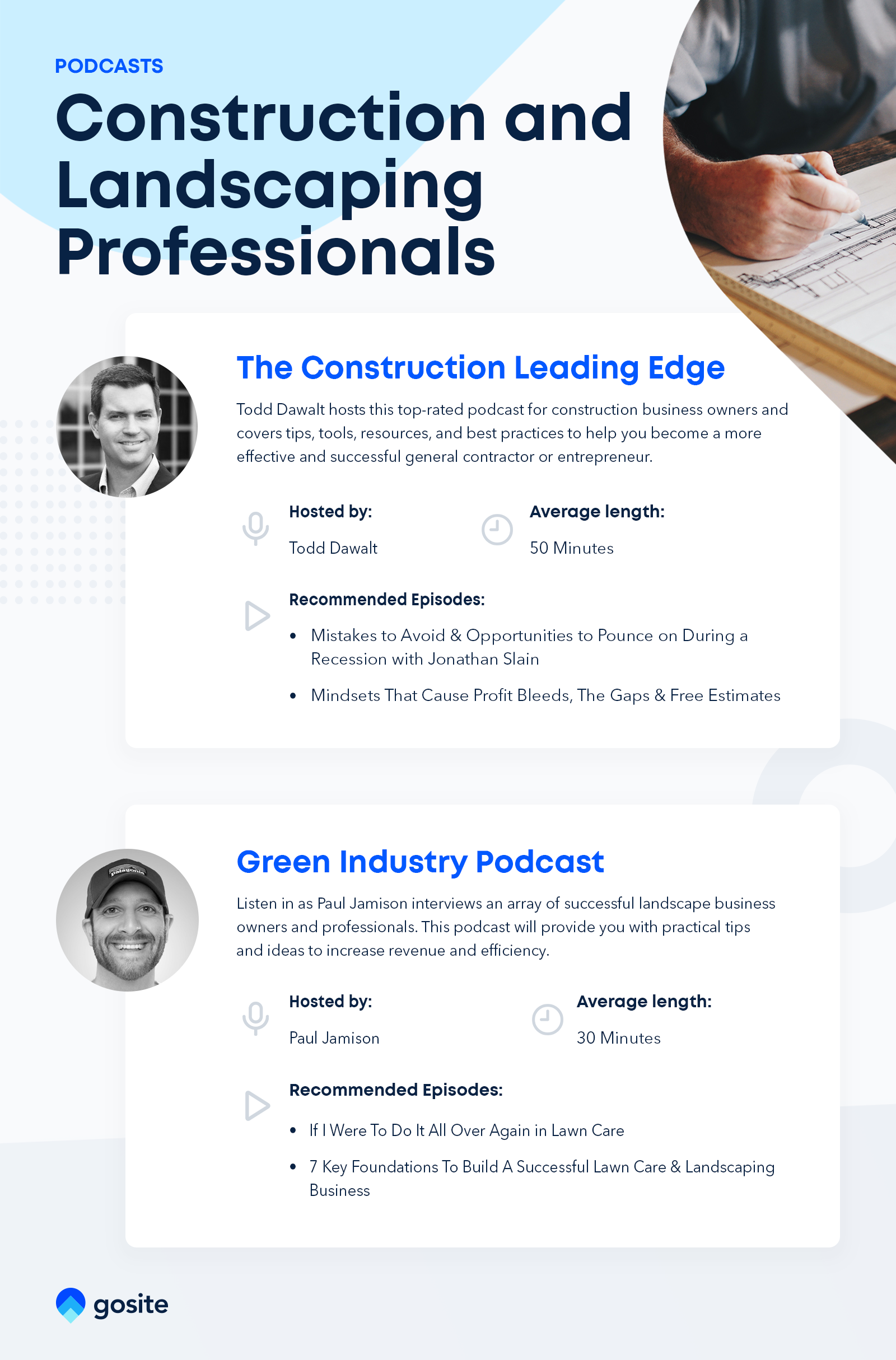 Listen to these construction and landscaping podcasts here:
The Construction Leading Edge | Green Industry Podcast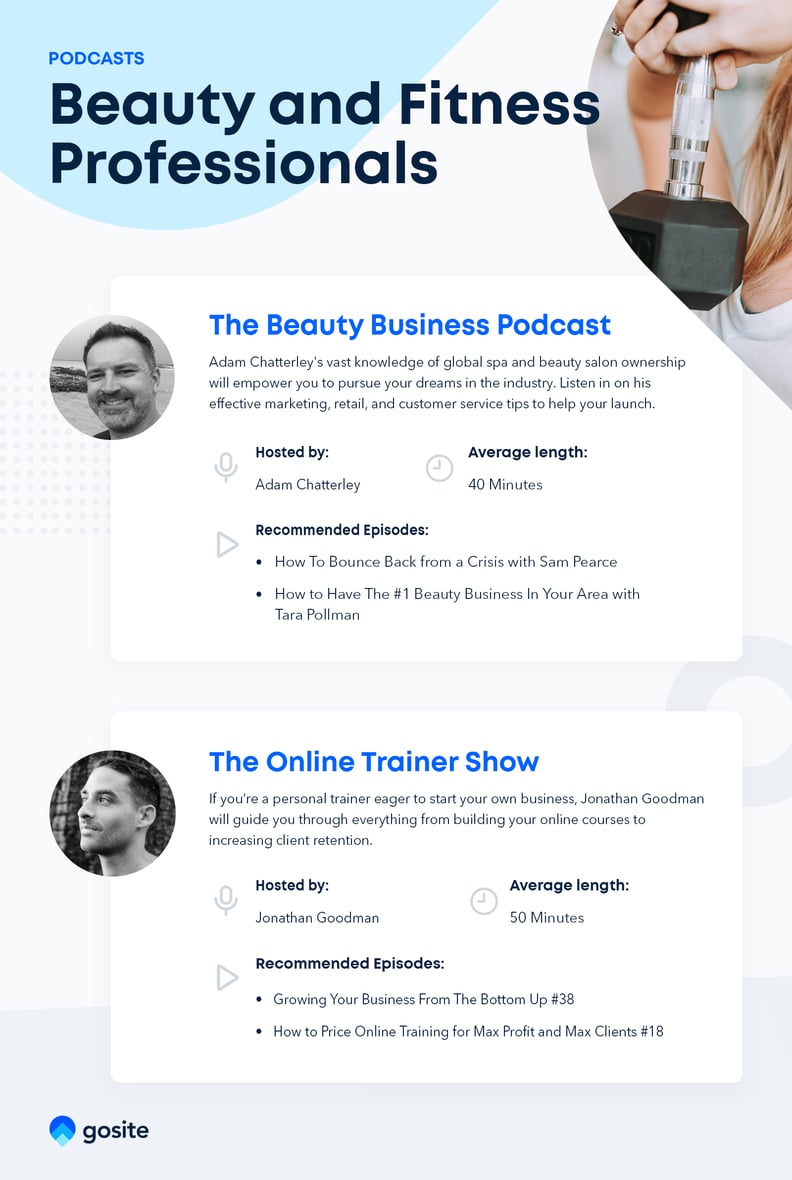 Listen to these podcasts for beauty and fitness businesses here:
The Beauty Business Podcast | The Online Trainer Show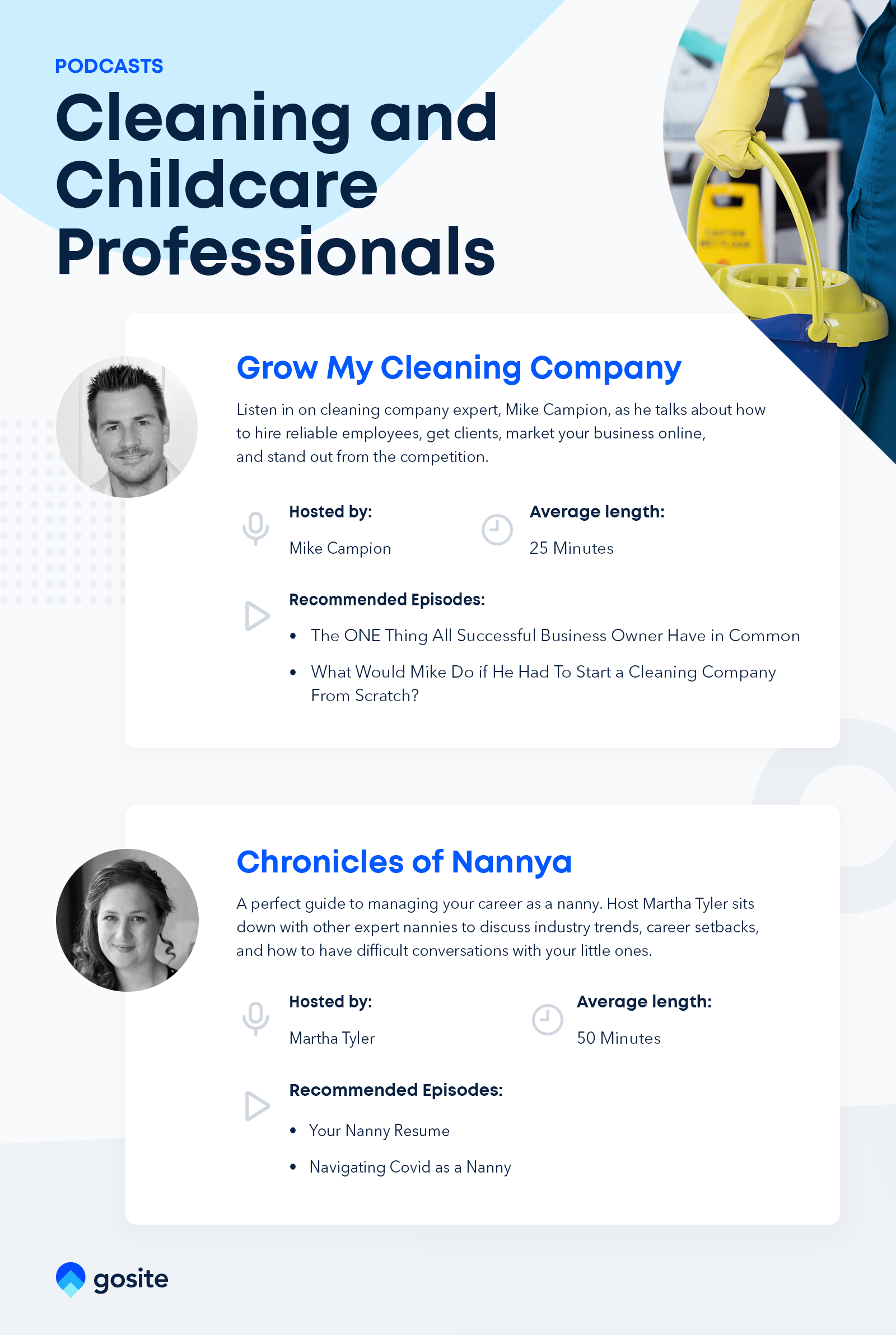 Listen to these podcasts for cleaning and childcare businesses here:
Grow My Cleaning Company | Chronicles of Nannya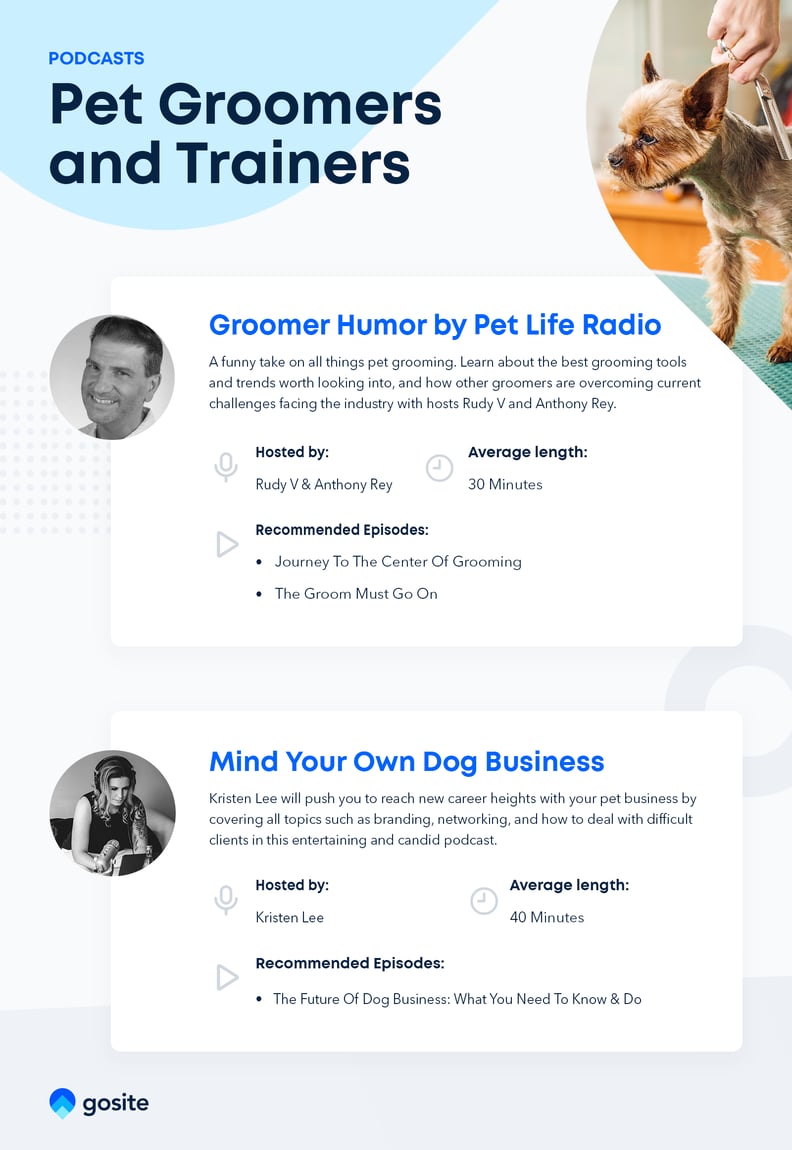 Listen to these podcasts for pet training and grooming services here:
Groomer Humor by Pet Life Radio | Mind Your Own Dog Business
We understand that starting a new business is scary, especially under unprecedented circumstances. However, if you gather as many free and low-cost resources as you can like these podcasts and an affordable platform to manage your business, you will keep your overhead down and ensure more money stays in your pocket at launch.