It used to be that in order to get ranked on Google, you would write a ton of content with interlinking.

"I link therefore I am."
And while traditional SEO still has its place in the online world, brick-and-mortar stores can hugely benefit from taking advantage of local SEO.
Think back to the last time you ran a Google search looking for a store near you. You typed in a keyword + near me and above the organic search results there was a map of the area and the local 3-pack.
No, that isn't a 3-pack of microbrew.

It would have looked something like this: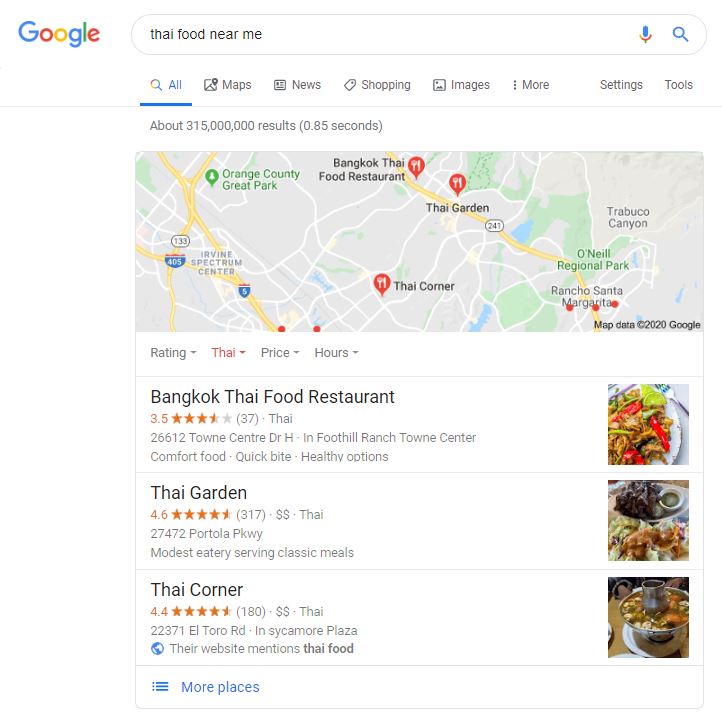 For local businesses, getting ranked in that 3-pack (also known as the snack pack—don't ask us why) can drive a significant amount of traffic to your store. Let's take a look at how you can achieve this coveted position on Google's Search Engine Results Pages (SERPs).
Consistent and Accurate Local Directory Listings
When almighty Google is deciding what to place in the 3-pack, it's going to look for businesses with an established online presence. Specifically, it's going to look at business listing directories like Google My Business, Bing, Yahoo, and Yelp. Those are the big names, but there are actually 70+ sites like these that Google will take into account.
If you really want to claim your spot among the snack pack, you'll need to be listed on as many of these sites as possible.
You'll also need to ensure that your NAP (Name, Address, Phone Number) is exactly the same on each platform. For example, you cannot list (619) 867-5309 on one site and 619-867-5309 on another site.
With your Placement tool, this is easy! Rather than having to log into seventy platforms and ensure your listings are consistent, you only have to log into one portal.
The Placement tool gives you a huge boost, but you should incorporate the other strategies in this article—especially if you're in a competitive niche.
Activity Signals
Activity signals (a.k.a. frequency signals) are the signals that let Google know you're alive and kicking. There are different kinds of activity signals, including:
Receiving & Responding to Reviews. The single most important signal you can send to Google is reviews. Currently, consistency and recency counts for more than volume. And for every review that's posted, you can enhance the activity signal by responding.
Posting Special Offers or Completed Jobs. This is another great way to show you are an active business online.
Uploading Photos. Google loves fresh content and so do potential customers!
However, it's worth noting that when it comes to local search, proximity is king. The closest business from the user's location will show first in almost every situation. It is much harder to rank outside the 20-mile radius from your central service areas.


An Optimized Website & GMB Profile
Optimizing your website and GMB profile plays double duty—it's important for both Google and your potential customers.
Optimizing your website means:
Hosting it on a cloud server in order to improve the speed of the website.
Creating a site that's responsive on both mobile and desktop devices.
Utilizing structured data optimization (automatically done for you if you're using the Sites tool). This is the data that tells Google what is on a website. The better the structured data is written, the better the website communicates with Google's algorithms.
Optimizing your GMB profile means:
Ensuring all service areas are correctly noted in the account so that the page can show up in those areas.


Adding all business categories and services to give the page a better chance of showing up for all service keywords.


Ensuring all content blocks (including business description and keyword labels) are filled out in order to fully optimize page for the business industry.
Ranking in local search and driving more traffic to your website is possible when you're equipped with the right tools. Not only is it possible, but GoSite's services and automated tactics make it easier than ever.
Tools included in this article:
Explore our blog for more information about the tools at your disposable. Can't find what you're looking for? We're happy to assist you at (858) 295-7995.