The goal of online advertising is to get found by the right people. In order to accomplish that, you'll need a substantial online presence. There's a lot you can do to build a digital presence and advertise your business online.
Pursuing multiple avenues is a good idea because everyone consumes information in different ways. The best way to connect with some of your audience might be via social, while another part of your audience is most likely to find you through a Yelp search.
In this blog we're going to explore how to advertise your business online, using both paid and unpaid methods.
How to Advertise Your Business Online for Free
Create content. One of the best ways to advertise your business online isn't to advertise at all; it's to educate. "But how will that help me sell?" you might be wondering. By creating content that's valuable to your audience you're establishing yourself as a reliable source of information and building a relationship with them in a way that's helpful and human. For example, you might:
Create relevant tutorials on YouTube
Have an FAQ section of your website
Engage with customers on social media
Offer a monthly newsletter
Craft content offers
Email marketing. Piggybacking off of that last bullet point, by crafting some kind of eBook or infographic, and offering it in exchange for an email address, you can build out your email marketing database. Email marketing is one of the most effective ways to advertise your business, and with many platforms, it's free up to a certain number of contacts.
Create a Google My Business profile. When it comes to how to advertise your business online, the best way to market yourself is to be found via organic search results. This is especially the case for small, local, and multi-location businesses. By creating a Google My Business profile, you make your business eligible to be found in local search results.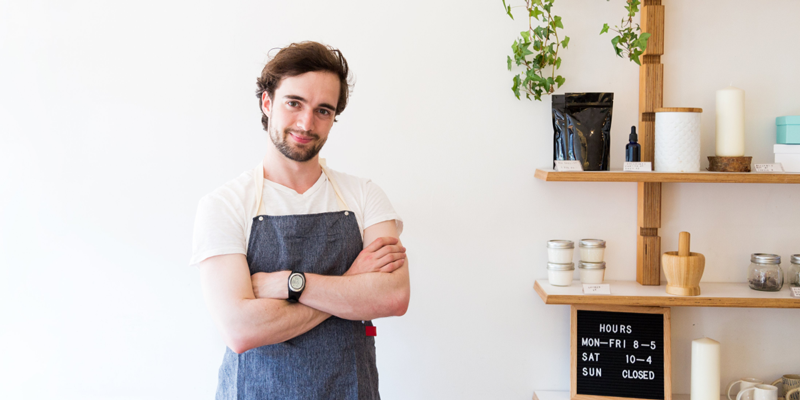 How to Advertise Your Business Online with Paid Methods
Paid ads. Paid ads are popular with small and local businesses because of their immediate results. With paid ads (whether PPC or Facebook or some other platform) you can enjoy:
Greater visibility & reach
Easily measurable ROI
Highly granular targeting
The best part is that you can control your budget and pay for ad clicks. You can select how much you want to spend per day or week, and once that limit is reached, your ads are taken down.
Targeted landing pages. Account-based marketing converts leads 4x better than generic marketing. This goes to show the importance of developing highly-targeted content to match the group of prospects you're trying to attract. With targeted landing pages, you can ensure the content resonates with visitors and increases the odds of them converting into customers. You can do this by:
Developing an attractive landing page
Writing a captivating headline and page title
Honing in on the benefits (the sizzle, not the steak)
Choose one call to action (CTA) and place it throughout the page
Place the most important information above the fold
Optimize your website for SEO. Getting traffic to your website is simple when you build an optimized website. This goes beyond keyword implementation. You must also create it with an intuitive and mobile-friendly design. You can use affordable tools to quickly develop a website that's professional and SEO-friendly. It's ideal to select a tool that offers:
Simple drag-and-drop editing features (for the non-coders)
Built-in SEO (for the non-SEO-experts)
Mobile-friendliness (so users can access your site on any device)
Free themes that match the business/industry you're in
Optimize your digital presence. Having a website and content strategy is key to building your SEO. But you also need a way to get visibility fast. With platforms like Google My Business and Yelp, this is definitely possible. The key is finding a tool that'll enable you to manage all of your business listings in one place. This way, your business can be found everywhere. If you go this route, choose a software that allows you to:
Publish and manage your listings on all platforms (there are over 70)
Improve your local search traffic on major search engines
Sync your business photos and content (NAP data, business hours, etc.)



Get Noticed By Using Free & Paid SEO
There are local SEO services that offer all the features you need for small business advertising. The key is finding the one that fits your budget and delivers awesome results.
If you're worried that you don't have the skill or know-how to pull it off, then we have something for you. Download this free guide, showing 5 simple steps to get started with local SEO.
It's time to put your business on the map, so check it out today!