Finding a great company to work for is like scouring Zillow for a new apartment. Shiny, bright pictures, long lists of the amenities and then, BAM—you find something that seems just like what you're looking for!
But often, it's not until you wake up in the new digs and find that the features that weren't listed in the ad are actually pretty important. You realize the neighbor above you has 5 chihuahuas and a new construction site across the street will soon block your beautiful view.
Similarly with new jobs, it can be hard to find out some of the most important details. What are other people in the company like? How does the company tackle key issues, such as unconscious bias and new parenthood? Are company leaders available and accessible?
At GoSite, we know that it's about more than just the paycheck (although that part is important too!). We know that people who are engaged, motivated, and cared for are far more likely to drive business success; we put that truth to action.
Here's what GoSite looks like—behind the scenes.
Friendly (remote) Faces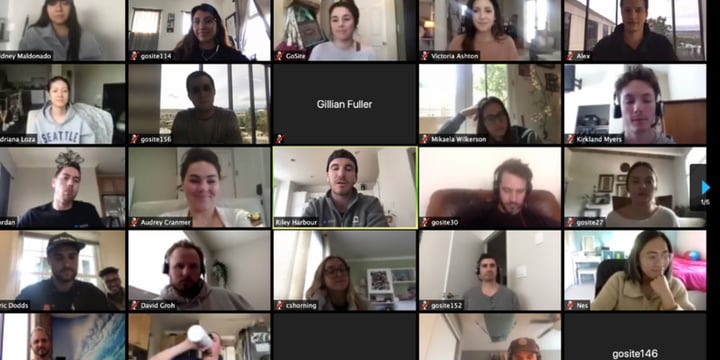 At GoSite, we have two core values. One of them is "be a good person." Simple, right?
For us, it's critical to keep this value front and center in all that we do. It impacts the way we make decisions, handle customer issues, interact with teammates in high-pressure situations, and more. When it comes to being good people, we hold ourselves accountable. We have built a team of incredible people—our workplace family.
Our community is friendly, tight-knit, and socially engaged. We may be one of the perfect use cases for Slack, as our team exchanges over a quarter of a million slack messages per month! Our team loves to share about more than just work and some of our favorite channels include #petsofgosite which is fully of cute, furry photos; #winning where members shout each other out; and #random which includes questions and recommendations ranging from information on local chiropractors to links for interesting news articles.
Transparency from Company Leaders
Startups move fast, and growth seems to happen at lightning speed. The faster you go, the more communication it takes to keep everyone on the same page. When you join GoSite, every Wednesday is an opportunity to hear company updates, gain insight into other departments goals, and meet the new hires of the week (I mentioned we are growing fast, right?!). It won't be long before you hear from our CEO and put faces to the names of department leaders all across the company.
One of the most highly reviewed activities that new hires participate in is an AMA (ask me anything) with our CEO during their first quarter. Whether you want to know how he came up with the business plan or "meet" his adorable goldendoodle, it's a great time to connect as humans and get to know the person who started it all.
It's More Than Just a Job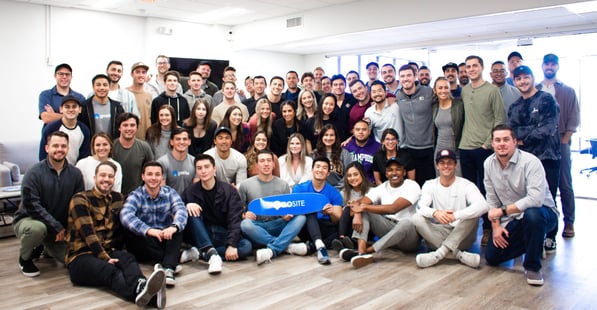 The perfect job may be out there for you, but what about everything else that makes somewhere a great place to work? In startups specifically, work and life have a way of blending together. Now more than ever (I'm looking at you, 2020) we need a space that acknowledges ALL of it.
Here are some things we're doing to support our team:
Created a Diversity + Inclusion committee to help drive education and awareness. Making GoSite the most comfortable, safe, and open place for anyone and everyone matters to us, so we encourage our employees to join and participate in the conversation.
Encouraged mental health time off. We know that mental health is just as important as any other kind, so your sick days are there to use for mental health breaks, just like the flu.
Supported the community through GoSite Gives. Employees are encouraged to partner with us to give back to our communities through our philanthropic venture, GoSite Gives.
Instituted Election Day as a paid holiday. This year we implemented a new paid day off for employees— Election Day—in hopes of encouraging more of our team members to participate in voting.
There is still so much more good work to do, but this is just the beginning of building a world-class company that truly cares for each and every individual, beyond the workplace.
We spend most of our days focused on our jobs, but at GoSite we believe it doesn't always have to feel like...well, work. We believe in building a strong community of good, kind people who help one another. We believe in being open and inclusive, as well as making it a home for anyone with the capability and passion to work hard to help small businesses succeed.
What are you waiting for? Join us today and help us grow better, one great person at a time.